Shark meat and petitions to sign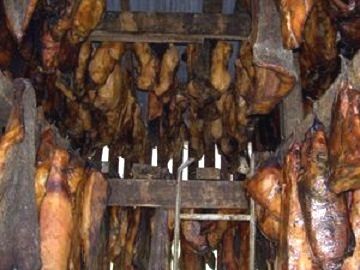 and
And about
Today about Hákarl
or kæstur hákarl (Icelandic for "fermented shark") is a food
from Iceland
http://en.wikipedia.org/wiki/H%C3%A1karl
""Hakarl, which is an Icelandic delicacy, is a dish that's served during the Icelandic midwinter festival, Thorrablot. Usually taken with a shot of "brennivin" (a strong spirit made from potatoes), this unique dish has been described by some to have a powerful "cheesy" flavor, while others have described it as the vilest thing they ever tasted, almost akin to solid urine. But it's not the unique taste of this delicacy that puts it on the map, but rather what it actually is--rotten shark meat.

Killed, gutted, and then boned (or more correctly "cartilaged"), a shark's flesh is divided into pieces, washed and then buried in a large hole with coarse gravel. This meat is then left to decay and rot in the pit for 6-8 weeks to a few months, depending on the season. Afterwards the meat is dug up, washed, and aired out in a drying shack for another 2-4 months. Once the curing process is done, the meat is taken, its brown crust is removed and the remaining whitish flesh is carved up into small pieces to be served. "" read more here :
http://www.associatedcontent.com/article/422669/the_mystery_of_hakarl_rotten_shark.html?cat=16

just belonging to the awful food museum http://ewewgross.blogspot.com/
and most important an other abuse against SHARK !!
Pls educate people :
http://www.sharkwater.com/education.htm
and
PLS SPEAK UP FOR SHARKS AND STAND FOR SHARKS !!
Pledge to save the SHARKS here :
http://www.sharkwater.com/pledge_to_save_sharks.php
*** About FINNING ::pls read and sign ( share PLS ) the petitions here :
http://isabella-vegan-page2.over-blog.com/article-finning-take-actions-for-the-sharks-61337024.html
http://www.facebook.com/note.php?note_id=440830713385
PETITIONS TO SIGN AND TO SHARE _ thank you _
China, Taiwan and Hong Kong account for 95% of the world's consumption of shark fins. A new proposal by a member of China's parliament seeks to ban the shark fin trade within China.
http://www.change.org/petitions/support-chinese-legislation-to-ban-shark-fins#?opt_new=f&opt_fb=t
AND
http://www.change.org/petitions/no-more-shark-fin-soup-in-cape-town-2#?opt_new=f&opt_fb=t
http://www.change.org/petitions/put-the-planet-before-profits-say-no-to-shark-fin-soup#?opt_new=f&opt_fb=t
The Bahamas is the shark diving capital of the world. In the 1990s, a ban on longline commercial fishing provided the ocean predators -- and the divers who love to swim with them -- a bit of a haven around the islands. But now there's a new threat to sharks: a seafood export company wants to set up a finning operation.
Shark finning is not only unsustainable, it's also incredibly cruel. The fins are sliced off the animals while they're still alive and then their bodies are dumped back in the ocean to drown or be eaten alive by other fish. _ here :
http://www.change.org/petitions/protect-sharks-in-the-bahamas#?opt_new=f&opt_fb=t
http://apps.facebook.com/petitions/12/ban-the-sale-and-trade-of-shark-fin-in-new-york-state/