How to Veganize recipes ♥ Baking without Eggs: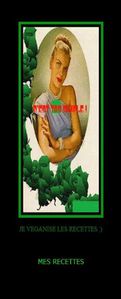 1__From IDA http://www.idausa.org/ :
Substitution Solutions :
Cow's Milk- Replace one cup cow's milk with one cup of:
-soy milk
-rice milk
-hemp milk
-almond milk
-coconut milk
Buttermilk- Replace one cup buttermilk with one cup of:
-1 cup alternative milk + 1 T lemon juice or 1 T vinegar (let stand until slightly thickened.)
-I cup coconut milk
Yogurt- Replace one cup yogurt with one cup of:
-soy yogurt
-coconut milk yogurt
-soy sour cream
-unsweetened applesauce
-fruit puree
Butter- Replace one stick butter with:
-1 stick (8 T) Earth Balance non-hydrogenated buttery spread
-8 T Spectrum Organic Shortening
-8 T vegetable or olive oil
-8 T margarine
for reduced fat:
6 T unsweetened applesauce + 2 T fat of choice
Eggs- Replace one egg with one of the following:
-3 T unsweetened applesauce (or other fruit puree) + 1 t baking powder
-1 T flax meal + 3 T hot water (Let stand, stirring occasionally, about 10 minutes or until thick. Use without straining.)
-EnerG Egg Replacer, according to package directions
- 4 T pureed silken tofu + 1 t baking powder
Egg White- Replace one egg white with one of the following:
- Dissolve one T plain agar powder into one T water. Beat, chill for 15 minutes and beat again before use.
For recipes that call for a lot of eggs, like a quiche, use pureed silken tofu.
2__Baking without eggs:
_Fruit makes an excellent replacement for eggs - try bananas, apple puree or any high pectin content fruit. Usually 1/4 cup of banana will replace 1 egg.
_For a replacement for just the egg white, mix 1 tbsp plain agar powder (available from health food stores/Chinese stores etc...) with 1 tbsp water. Whip together, chill it and then whip it again.
_ 2 tbsp water mixed with 1 tbsp of oil and 2 tspn of baking powder. Mix together well before adding
_Tofu is fabulous as a replacement, as it will take on the flavour of whatever you are cooking it with. As a general rule, 1/4 cup of tofu will replace 1 egg. Whip or beat it before adding it to the recipe.
_Grind 1 tbsp whole flaxseeds (or use 2 1/2 tbsp pre-ground flaxseed) and combine with 3 tablespoons of water to replace one egg.
Make sure that the mixture has gelled before using it. Some people recommend simmering the two items together to thicken this mix.
_In savory recipes, such as a vegetarian loaf, try binding agents like mashed potato, tomato paste or rolled oats.
These agents help to thicken and gel with the other ingredients. Also bread crumbs, cornmeal/flour, arrowroot and whole-wheat flour are good substitutions.
_Apple sauce, canned pumpkin, mashed canned fruit of choice - all of these can be used as an egg replacement in baked goods. These will leave their own flavour of course, so be sure of the taste you want. Fruit can make the baked item heavier, so add a little baking powder if this concerns you.
*Try the blends of peach/apple; strawberry/apple etc for delicious muffins.
*** Egg 'replacers' are available mainly from health food shops and some larger supermarkets.
Making an homemade substitute here a résumé :
by mixing 1 heaped tbsp of soya flour or cornstarch plus 2 tbsp water for each egg in your normal recipe.
*** If a recipe calls for an egg to 'bind' the ingredients, try using 25g/1oz of mashed tofu instead.
3__
EGG REPLACERS:
2 tbsp cornstarch = 1 egg
2 tbsp arrowroot flour = 1 egg
2 tbsp potato starch = 1 egg
1 heaping tbsp soy powder + 2 tbsp water = 1 egg ...
1 tbsp soy milk powder + 1 tbsp cornstarch + 2 tbsp water = 1 egg.
1 banana = 1 egg in cakes.
1 tbsp milled flax seed and 3 tbsp water = 1 egg.
*** Ener-G Egg Replacer - follow directions on box.
http://www.peta.org/living/vegetarian-living/dairy-replacements.aspx
For every dairy product, there is a cruelty-free alternative.
In addition to being more humane than cow's milk, soy-, rice-, and nut-based milks and cheeses are generally lower in fat and calories and contain no cholesterol.
Milk: Soy, rice, or nut milk can replace cow's milk in any recipe.
Soy and rice milks are available in a variety of flavors including plain, vanilla, chocolate, and strawberry. If you cannot find a nondairy milk, try making soy milk at home.
• For desserts, try using almond, oat, or coconut milk.
• For whipped cream, try Rich's brand nondairy whipping cream, beaten until stiff peaks form. You can find it at most Kosher or specialty baking stores.
• For buttermilk, combine one cup soy milk and one tablespoon vinegar.
• Silk brand creamer makes an excellent coffee creamer.
Cheese: You can make vegan cheese at home; check out our recipe section or The Ultimate Uncheese Cookbook by Joanne Stepaniak, available online at the PETA Mall. There are also plenty of convenient alternatives to cheese, such as the following, available at the grocery store or online:
• Vegan Gourmet Cheese Alternative by Follow Your Heart brand comes in mozzarella, nacho, Monterey jack, and cheddar flavors and contains no casein (a milk derivative). You'll find it in natural food stores or online at ImEarthKind.com.
• Tofutti brand makes a wide variety of soy cheeses, including nondairy cream cheese, as well as vegan sour cream and ice cream.
• Replace cottage or ricotta cheese with crumbled, seasoned tofu.
• For parmesan cheese, try Soymage vegan parmesan cheese or nutritional yeast flakes.
Yogurt: Try Silk or Whole Soy brand vegan yogurts alone or in a recipe.
Ice Cream: There is a wide variety of vegan ice cream available on the market. Try Soy Delicious, Soy or Rice Dream or Tofutti, brand.
Don't forget to check out our vegan shopping guide and delicious PETA VegCooking recipes.

Source :PETA
http://www.peta.org/living/vegetarian-living/making-the-transition-vegetarian.aspx