Please Help Shut Down Guzoo Animal Farm / Canada
Please Help Shut Down Notorious "GuZoo Animal Farm" In Canada
From IDA
The controversial GuZoo Animal Farm in Alberta, Canada, has long been a source of
great concern because of terrible conditions, including small filthy cages and failure to provide even basic care, for animals
such as primates, big cats, small mammals, birds and reptiles.
PLS have a look here :
http://www.guzooforever.com/cutebabyanimals.html
http://www.guzooforever.com/contactus.html
Now we have the chance to shut down this nightmare zoo and ensure that all the animals are released into protective care.
The Alberta government has taken action to close the roadside zoo by revoking the facility's license after extensive pressure from Zoocheck Canada and residents of Alberta.
While this is a good first step, a number of animals not covered under the zoo permit may be left at this decrepit facility.
Alberta Legislative Members are gauging public interest in the GuZoo Animal Farm by the amount of correspondence they receive on the issue.
So please write to the legislative members,
urging them to use the full authority of the government and the law to get all the animals out of GuZoo Animal Farm, not just those listed on the controlled species listing in the Alberta Wildlife Act.
***Please send one e-mail to the list on the bottom of this page

**There is a sample letter and e-mail string at the bottom of this page.
*** You do not have to be a Canadian citizen to help the animals at GuZoo. By sending a message, you show the Alberta Legislative Members that the world is watching its handling of this horrendous situation.


Send an e-mail to Alberta Legislative Members, thanking them for taking action and urging them to assure that all the animals are released from the Guzoo Animal Farm.
An e-mail string of all the Alberta Legislative Members is below. Just cut-and-paste that entire string into your e-mail. There's also a sample letter below that you can use, or compose your own. Thank you!
e-Mail addresses of Alberta Members of the Legislative Assembly: Please cut-and-paste into your e-mail the string of contact emails following sample letter.
Sample subject line for your e-mail: Please help the animals at the GuZoo Animal Farm in Alberta
Sample Letter:
To all Members of the Alberta Legislative Assembly:
I have recently learned about the horrendous conditions for animals at the GuZoo Animal Farm in Three Hills, Alberta, and that the Alberta government has decided not to renew the zoo's permit. Thank you for taking this important action to protect some of the animals at the facility. However, I am concerned that this limited action only requires the removal of the animals included on the Alberta Wildlife Act Controlled Species Listing and therefore many animals may be left behind to endure the terrible conditions at this substandard facility.
Reports by Zoocheck Canada show that the facility has not been in compliance with the Standards for Zoos in Alberta since their enactment and has a long history of failing to provide even basic care for the animals including fresh water, nutritious food and adequate shelter, space and care.
I respectfully request that you use the full authority of the government and its animal cruelty legislation to move all the animals from the Guzoo Animal Farm to safe locations, including the non-controlled species, and bring animal cruelty charges against its owner.
Thank you for your attention to this urgent issue.
Sincerely,

Name /Country


Alberta MLA e-mail addresses - Just cut-and-paste this entire string into your e-mail:

List here :
http://ida.convio.net/site/MessageViewer?em_id=19222.0&printer_friendly=1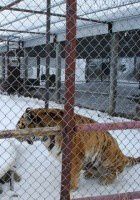 And with PETA :
For years, both locals and visitors from around the world have spoken out against GuZoo. A retired Toronto zookeeper called the zoo a "disgrace to the people of Alberta and those who care about animals," while a Calgary keeper said that the facility was "[g]rossly substandard and filthy."
GuZoo was shut down largely because of the risk of disease transmission to the public from filthy, feces-ridden animal enclosures in which carcasses were left to rot. After years of neglect and a threat by GuZoo's owner to kill all the remaining animals, it's highly unlikely that conditions will improve for the animals who will be left behind.

Alberta officials are determining their course of action based on public input, so now is your chance to speak out against this injustice by asking that all the animals living in squalor at this wretched facility—not just those regulated under the Alberta Wildlife Act—be removed. Celebrity activists such as Bob Barker have already expressed their concern for these animals, and you can too.


https://secure.peta.org/site/Advocacy?cmd=display&page=UserAction&id=3751
You can help ensure a happy ending to this otherwise tragic saga for the animals at GuZoo by making sure that all the animals--including those not regulated under the Alberta Wildlife Act--are removed and relocated to appropriate sanctuaries.
Thank you for your timely attention to this urgent issue.
PLS TAKE ACTION and SHARE ! Thank you
In Defense of Animals, located in San Rafael, Calif., is an international animal protection organization with more than 100,000 members and supporters dedicated to ending the abuse and exploitation of animals by protecting their rights and welfare. IDA's efforts include educational events, cruelty investigations, boycotts, grassroots activism, and hands-on rescue through our sanctuaries in Mississippi, Mumbai, India, and Cameroon, Africa.