URGENT pour les dauphins à TAIJI , For the dolphins in TAIJI
PLS SEND A MESSAGE NOW / ENVOYER UN MESSAGE MAINTENANT
TO
__Prime Minister Naoto Kan
http://www.kantei.go.jp/foreign/index-e.html
CONTACT form :https://www.kantei.go.jp/foreign/forms/comment_ssl.html
__To :
The International Whaling Commission


The Red House,, 135 Station Road,Impington,Cambridge,




Cambridgeshire CB24 9NP, UK.

Tel: +44 (0) 1223 233 971
Fax: +44 (0) 1223 232 876
Contact Form : http://iwcoffice.org/other/contacts.htm
to :the Japanese embassy/consulate in your country
To find your embassy here :
: http://www.embassyworld.com/Embassy_Of_Japan/
All the Japanese embassies : http://www.embassyworld.com/dev/result.php?guest=102&host=%25&count=0&menu=1
to : these emails addresses :
http://taijiactiongroup.blogspot.com/2010/09/z-list-japanese-embassy-email.html
FOR US RESIDENTS and if you feel concerned
Stop the Sell-out by the US Delegation to the Government of Japan and International Whaling Commission Negotiations to Overturn the Ban on Commercial Whaling Must Stop!
Contact Mr OBAMA who will be visiting Japan in November
here how to do : http://www.savejapandolphins.org/obama.php
Contact :MINISTER OF FISHERIES
Ministry of Agriculture, Forestry and Fisheries
Masahiko Yamada
1-2-1 Kasumigaseki
Chiyoda-ku, Tokyo. 100-8950 JAPAN

Tel: +81-3-3502-8111
Fax: +81-3-3502-8220
Website: http://www.maff.go.jp/e/index.html
Contact form: https://www.contact.maff.go.jp/maff/form/114e.html
And : PLS READ This , IT IS IMPORTANT!
*ARTICLE en FRANCAIS après celui ci _merci_
You can HELP and SHARE " what to do " ASAP!
Steven Thompson's message October 11 :
""Subject: URGENT: NEW HUNT started now Oct 11 !!!...
SAVE THE BABY DOLPHINS AND PREGNANT FEMALES THIS TIME Oct 11 8:30am
*** At this moment, dolphins are being driven into the Cove now.
It looks like 15...made up or Risso's and long finned pilot whales...what would be two small pods.
***Please do your part in a world wide campaign to save them from probably death within 22 hours.
Call any Japanese connection you have...
It would be better if you could go to the local consulate or embassy.
JAPANESE EMBASSIES : http://www.embassyworld.com/Embassy_Of_Japan/
Please consider going to the mayor of the town you are in if your town has a sister city relationship.
We will be able to put you in touch live with the 24 hour Cove Vigil for maximum media input.
***organize a press release.
*** Perhaps engage yourself in a 24 hour vigil outside of the consulate or embassy.
People will join you.
We are working with the October 14th Protest organizations as well as the Nov. 5th groups...
Celebrities have already volunteered to help bring news coverage.
___Consider asking friends who speak Japanese to call those responsible to be able to end the hunt:
Mr. Sugimori and Mr. Kai of the Taiji Fishermen's union.
Today is a national holliday in Japan, so perhaps your local consulate is closed.This is why a 24 hour vigil may be our best hope.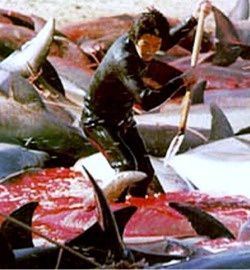 Or Come to Taiji if you can be here in the next 22 hours.
I will need to make hotel reservations for you
Make it peaceful.
Keep the vision of our Risso and Pilot Whale friends free and happy.
Please do not keep the blood image in your mind or heart.
Be respectiful Camp Out! Permits be dammed.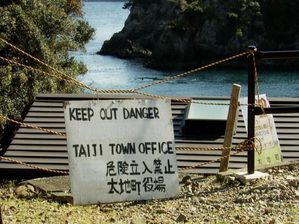 If the police tell you you will be arrested, you will help the movement gain attention.
so :Emergency Contact
If you are an American citizen with an after-hours emergency, please call 03-3224-5000.
The Consulate in Fukuoka helps Americans in Fukuoka, Kagoshima, Kumamoto, Miyazaki, Nagasaki, Oita, Saga and Yamaguchi. Routine services are provided by appointment only. During regular business hours (Monday through Friday, 8:45 a.m. to 5:30 p.m. except Japanese and American holidays), please call 092-751-9331 to schedule an appointment.
r address is:5-26 Ohori 2-chome, Chuo-ku, Fukuoka 810-0052
U.S. Embassy Tokyo
Tel. (03) 3224-5000 / DSN 224-5000 Switchboard
1-10-5 Akasaka
Minato-ku, Tokyo 107-8420

***The only step proven that most Japanese will accept is the saving of the baby Rissos and Baby Long finned.
If there are pregnant females in this group as well.
This may be the best angle...not the we want a killing...but small pleading steps if you get the attention of media or Japanese officials:
save the baby dolphins and pregnant females this time.
***The following organizations have the power to stop this now.
***Taiji Mayor Sangen...City Hall: phone: 81-73-559-2335 Fax: 81-73-559-2801
___Taiji Whale Museum: 81-73-559-3732
___Taiji Fishermens Union (The FU) Phone: 81-73-559-2340
Fax: 81-73-559-2821
Steven Thompson TDAG Co-Founder : http://www.facebook.com/group.php?gid=206102512676
Français :
En ce moment même où vous me lisez, les dauphins sont conduits et coincés dans la baie pour être massacrés dans 24 heures,
AGISSEZ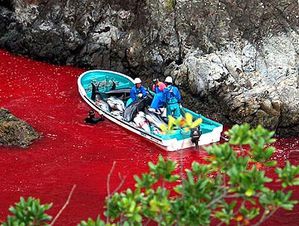 veuillez noter les adresses indiquées ci-dessus dans l'article en anglais téléphonez, faxez
TRES IMPORTANT A FAIRE D URGENCE :
remplissez le formulaire au ministre avec votre commentaire pour la sauvegarde des dauphins et avant tout d'arrêter ce massacre
le lien du formulaire se trouve en haut de cet article.
CE JOUR NOUS POUVONS LE FAIRE CAR DES DAUPHINES SONT ENCEINTES et, le gouvernement sera sensible à ce fait important pour eux.
VITE ! ENVOYEZ VOS MESSAGES PAR LE BIAIS QUI VOUS SERA FAVORABLE
ICI : la liste des ambassades , consulats
E SUISSE :http://www.embassyworld.com/dev/result.php?guest=102&host=194&count=0&menu=1
En FRANCE : http://www.embassyworld.com/dev/result.php?guest=102&host=69&count=0&menu=1
MAIS TOUT DE SUITE
ET SVP PARTAGEZ CETTE ALERTE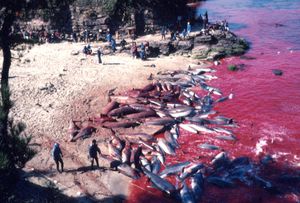 POUR LES DAUPHINS
MERCI
Isabella
"The fishermen kill the dolphins with spears, fishermen's hooks and knives. Trashing about in their own blood, the dolphins emit high-pitched screams during the massacre"
http://www.savejapandolphins.org/quickfacts.php
Article précédent à ce sujet :
et actions à mener /Petitions
ici :
Sea Shepherd Conservation Society
learn more about the international day of protest on October 14, 2010.
*** PLS SUPPORT R. O BARRY :
To join

the worldwide Save Japan Dolphins Day rallies around the world in front of Embassies and Consulates of the government of Japan.
When: Thursday, October 14th, Noon to 2 PM.
Where: In front of Embassies and Consulates of the Government of Japan around the world.
A worldwide peaceful and lawful protest of the annual dolphin slaughter in Japan, as depicted in the Academy Award winning documentary The Cove and the Animal Planet series

Blood Dolphins

.
The Japanese government issues 23,000 permits annually to coastal communities to kill dolphins of several species.
A few are sold, at great profit, to aquariums and swim-with-dolphins programs around the world.
The captive dolphin industry subsidizes the slaughter.
The majority of the pod is then slaughtered for meat.
But the meat is contaminated with outrageous amounts of mercury and other pollutants, exceeding the Japanese government's own health limits.
This is a human rights issue as much as an animal welfare issue.



Demonstrations will be going on throughout the world in front of Japanese embassies and consulates on October 14th

.
Please join your fellow environmentalists and animal activists in protesting the hunts and urging Japan to switch to more sustainable and benign methods of profit, such as eco-tourism and dolphin-watching cruises (ironically becoming more popular in Japan every year).
The International Dolphin Day on this Thursday, October 14, 2010.
This is the day to show your support for dolphins and whales and for the conservation of our oceans.
Please join us in protesting the dolphin slaughter.
Please pass this information on to your own network of friends and relatives.
CONTACT YOUR LOCAL MEDIA (TV, NEWSPAPERS AND RADIO): In order to spread the news about what is happening in Japan, we need to get media coverage.
Write letters to the editors of your local newspapers

Call TV and radio stations to ask them to cover this important news
Letter example to send,but
your own words are important
I am very outraged by the annual horrific massacre of dolphins in Taiji /Japan
Every year, the videos, images of bloody red water, dolphins suffering a long agony, show the world that Japan has sadly very little respect for the state of the world's Oceans and for the Dolphins.
Corralling the dolphins into Taiji Cove, then making them suffer a long and painful death by spears, hooks, and drowning is an inhumane way of fishing.
These dolphins do not belong to Japan.
The status of the species of dolphins and whales that you kill are either endangered, threatened, or unknown.
It is no respect for the Conservation of the Marine Ressources, as you claim to support.
It is an unthinkable waste that they will likely end up as a meat product or deceptively sold as whale meat,
polluted with toxic levels of mercury and cadmium, killing people that eat it.
It is tragic and unacceptable that the remaining dolphins that are not killed will end up destined for death in an aquarium, seaworlds, water park, or "swim with dolphins" program.
In addition, the methods used to kill these animals are very cruel.
This action is disgraceful and those massacres cause much disappointment every year, in the international community.
I demand that you consider stoping now for this year

)

as several Dolphins are pregnant ,
,
the babies and pregnant females should be
spared,
please stop the massacre!
Please cease this reprehensible violence.
http://www.savejapandolphins.org/taijitown.php
About the fishermen
Fishermen in Taiji, whose annual dolphin slaughter was depicted in the Oscar-winning documentary "The Cove," say they will resume the hunt next week because the 400-year-old tradition is the foundation of their industry.
"We have no intention to stop hunting dolphins," Miyato Sugimori, administrative chief of the Taiji Town Fisheries Association, said in an Aug. 25 interview. "Our young fishermen can't continue to live in this town without the hunt."
Of Japan's annual quota of 20,000 dolphins, about 1,500 are killed or sold to aquariums by fishermen in the town in Wakayama prefecture, south of Osaka. Taiji's practice of "oikomi," a method of hunting in which dolphins are herded into a bay for slaughter, drew worldwide criticism after the documentary was released.