EASTER : http://en.wikipedia.org/wiki/Easter
From PETA :
*** EASTER Brunch Recipes
the days of eating a basket full of candy for breakfast have come and gone. On Easter morning, I'll have a piece or two of vegan candy, but after that, I'll indulge in a decadent, yet easy brunch to celebrate the holiday with family.
This may not sound as exciting as a sickening amount of chocolate and other candies, but it can be. Here are some Easter brunch menu suggestions to help you create a savory and sweet holiday meal that is anything but boring.
Savory:
From PETA : http://www.peta.org/living/vegetarian-living/Easy-Easter-Brunch-Menu.aspx
Sweet:
Whatever you decide to feast on, make sure this celebration of resurrection doesn't involve eating dead animals!

Tell to your non-vegan friends to leave the meat off the menu and try these fantastic recipes from around the world.


United States:

Vegan/Veggie Baked Ham




1 large vegan/vegetarian stewed ham
1/2 cup brown sugar
1 tsp. cinnamon
1 tsp. cloves
5 slices fresh pineapple
1/4 cup lemon juice
1/2 cup pineapple juice
1/2 cup orange juice

Preheat the oven to 350°F. Cut the veggie ham into bite-sized pieces. Mix all ingredients together. Cover and bake in the oven for 35 minutes.

Makes 6 to 8 servings.

Red Potato Salad

20 red potatoes, quartered
1/2 cup minced red onions
1 cup seedless red grapes, halved
1/4 cup cilantro, chopped
1/4 cup vegan mayonnaise, such as Vegenaise available at most health-food stores
3 tsp. mustard
1/4 tsp. pepper

Boil the potatoes until tender. Drain and set aside. When cool, combine in a large bowl with the onions, grapes, cilantro, vegan mayonnaise, mustard, and pepper. Toss gently.

Makes 4 to 6 servings.

***

Spain

Rosquillas of the Holy Week

1 cup all-purpose flour
1/3 cup granulated sugar
Egg replacer equivalent to 1 egg
1 tsp. baking powder
1/4 tsp. vanilla extract
2 Tbsp. dairy-free margarine
Vegetable oil
1/2 cup confectioners' sugar

Sift the flour into a bowl. Combine with the sugar, egg replacer, baking powder, vanilla, and margarine. Mix until a dough forms. Set aside and let rise. Shape into 18 to 20 cookies. Heat the oil on medium-high and fry the cookies for 4 minutes, or until golden brown. Sprinkle with confectioners' sugar.

Makes 18 to 20 cookies.

***
Italy

Easter Pie

2 cups all-purpose flour
1 cup dairy-free margarine
1/4 tsp. sugar
1 1/4 tsp. salt
1/4 cup water
1 lb. vegetarian sausage, crumbled
2 lbs. firm tofu, crumbled
1/4 cup soy Parmesan cheese
1/4 cup minced fresh parsley
1/2 tsp. fresh ground pepper
1/4 tsp. cayenne
1/4 tsp. paprika
1/4 tsp. ground fennel seeds

Preheat the oven to 350°F. In a food processor, combine the flour, margarine, sugar, and 1/4 tsp. of salt. With the machine still running, add the water to form a dough ball. Divide the dough into two balls and set aside. In a large bowl, combine the vegetarian sausage, tofu, soy Parmesan, parsley, remaining salt, pepper, cayenne, paprika, and fennel seeds.

Roll out the dough into two 11-inch circles. Place one circle in a 10-inch pie plate and spread the filling mixture over it. Cover with the other dough, pinch the edges, and prick the center with a fork. Bake for 1 hour, or until golden brown.

Makes 8 servings.

***
Poland

Babka (Easter Bread)

1 pkg. dry yeast
1/2 cup soy milk, lukewarm
1 cup sugar
2 cups all-purpose flour
Egg replacer equivalent of 3 eggs
1 tsp. vanilla
1/2 tsp. almond extract
1 tsp. grated lemon rind
1 Tbsp. margarine
1/4 cup raisins
Vegetable oil
1/2 cup powdered sugar
1 Tbsp. lemon juice

In a large bowl, dissolve the yeast in the soy milk. Combine with 1/2 cup sugar and 1 cup flour and set aside for 30 minutes. Add the remaining sugar, remaining flour, egg replacer, vanilla, almond extract, grated lemon, and margarine. Mix gently. Add the raisins while continuing to mix. Grease a loaf pan and dust with flour. Place the dough in the pan, cover with a clean cloth and set aside in a warm place for 30 minutes. Preheat the oven to 350°F. Bake for 35 to 40 minutes. Remove from heat and, when cool, remove from the pan.

In a bowl, mix the powdered sugar and lemon juice to make icing. Drizzle over the babka.

Makes 6 to 8 servings.

***

Germany

Potato Pancakes

1 large baking potato
1/2 medium onion
Egg replacer equivalent of 1 egg
1 Tbsp. chopped parsley
1 Tbsp. flour
1 Tbsp. bread crumbs
1/4 tsp. thyme
1 lemon, juiced
Salt and pepper, to taste
Vegetable oil
1/3 cup applesauce

In a food processor, grate the potato and onion. Squeeze out the excess liquid and place the dry potato-onion mixture in a bowl. Combine with the egg substitute, parsley, flour, bread crumbs, thyme, lemon juice, salt, and pepper. Mix together.

Warm 1/2 cup of oil on high heat in a skillet. Add 1/2 cup of the potato mixture to the oil and flatten into a thick pancake. Turn the heat down to medium. Cook for 5 minutes on each side, or until golden brown. Do the same with the rest of the potato mixture. Top with the applesauce.

Makes 3 servings.

***


COMPASSION AND RESPECT ♥♥♥
EVOLVE CAMPAIGNS : http://www.evolvecampaigns.org.uk/
EVOLVE :
awareness campaigns
The truth behind Easter holiday traditions and the cruelty-free vegan alternatives
http://www.facebook.com/notes/evolve-campaigns/the-truth-behind-easter-holiday-traditions-and-the-cruelty-free-vegan-alternativ/10150155643498891
In addition to having distinct personalities, cows are generally very intelligent animals who can remember things for a long time. Animal behaviorists have found that cows interact in socially complex ways, developing friendships over time, sometimes holding grudges against cows who treat them badly, forming social hierarchies within their herds, and choosing leaders based upon intelligence. They are emotionally complex as well and even have the capacity to worry about the future
http://www.evolvecampaigns.org.uk/animals.asp?cat=jessie
AND

http://www.facebook.com/notes/evolve-campaigns/its-soon-easter-please-be-kind-to-the-babies-chicks-and-calves-suffer-as-you-cel/378365913890
http://www.peta.org/issues/animals-used-for-food/egg-industry.aspx
http://www.evolvecampaigns.org.uk/animals.asp?cat=hetty
http://www.peta.org/issues/animals-used-for-food/free-range-organic-meat-myth.aspx
As Christians remember Christ's crucifixion as the final sacrifice and celebrate His victory over death in the resurrection, let us resolve to emulate His compassion in their own lives by showing mercy to animals. There's no better place to begin than the dinner table. As we break bread, let's break ties with some of the most violent and ungodly places on Earth—slaughterhouses and factory farms.
Before they become Sunday's centerpiece, animals on factory farms are denied everything that God designed them to want and do. They never breathe fresh air, nurture their young, play with other animals, or do anything to live out the biblical concept that "God's mercy is over all His creatures."
For example, pigs spend their entire lives in filthy concrete pens, and cruelty is rampant, as witnessed by PETA investigators. PETA's investigation of Belcross Farm, a pig-breeding facility in North Carolina, resulted in the first-ever felony indictments for cruelty to animals by farm workers in the U.S. PETA's recent undercover investigation at Seaboard Farms, Inc. has resulted in the filing of felony cruelty-to-animals charges against a former manager at the facility.
Easter is also no celebration for hens on egg farms, who suffer constant confinement to tiny, filthy wire cages. Male chicks are killed—often through suffocation—since they don't produce eggs, and female chicks have their beaks painfully seared off to keep them from pecking one another. Cows on dairy farms are kept continually impregnated, and their calves are snatched away just after birth so that their mothers' milk can be consumed by humans.
At the end of their short, miserable lives, these animals are crammed into trucks, with little protection from the elements, to suffer the ultimate terror of the slaughterhouse, where workers hang them upside-down and slit their throats.
http://www.peta.org/features/Celebrate-a-Cruelty-Free-Easter.aspx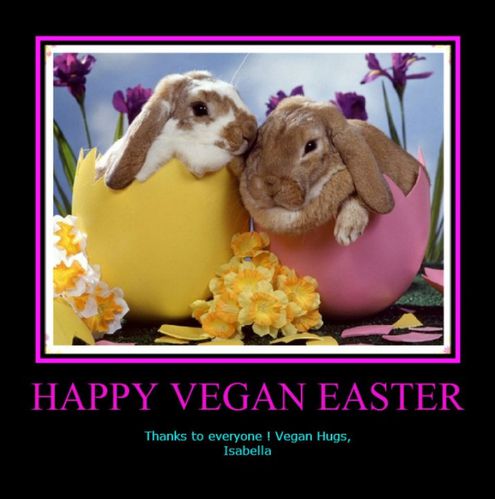 GO VEGAN ♥
Happy holidays! ♥♥♥