Vegan Apricots crumble With Almond and Breadcrumb Topping recipe
Roasted Apricots With Almond and Breadcrumb Topping
You can use Apricots or
apples, peaches , plums, cherry plums for the recipe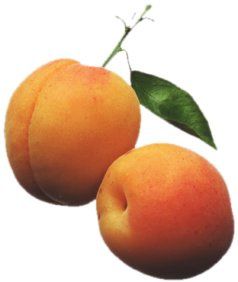 I turned vegan this Martha's nice recipe .
This dish is like an

apricot crumble

but with less topping
— you don't need much to provide contrast with the tart baked apricots.
8 medium-size or 12 small apricots
2 tablespoons finely chopped almonds, raw or toasted
2 to 3 teaspoons raw brown sugar like turbinado sugar or Sugar in the Raw),
to taste

2 tablespoons fresh breadcrumbs
2 teaspoons vegetable oil as walnut, hazelnut,sesame or other
**plus additional for the ramekins

Pinch of freshly grated nutmeg
1. Preheat the oven to 400 degrees.
oil four 6-ounce or 1-cup ramekins.
Pit and quarter the apricots, and arrange in the ramekins,
* using two apricots per ramekin (three if the apricots are small).
If you have to make smaller slices to fill empty spaces in the ramekins, that's fine.
2. Mix together the chopped almonds, brown sugar, breadcrumbs, oil and nutmeg.
Dot the apricots with the topping, using about a tablespoon for each ramekin.
3. Place the ramekins on a baking sheet, and bake 15 to 20 minutes until the apricots are bubbling and the topping is lightly browned.
Remove from the heat, and allow to cool for at least 20 minutes before serving.
Yield: Serves four.
Advance preparation: You can assemble the ramekins several hours before baking and hold the dish for several hours.
Nutritional information per serving: