About Bison : http://en.wikipedia.org/wiki/American_Bison
French / Français: http://fr.wikipedia.org/wiki/Bison
Message From : http://www.defenders.org/about_us/index.php
Here the message :
A tragic slaughter nearly wiped them out more than a century ago. Now some of America's last wild, genetically pure bison face hazing and slaughter as they leave the safety of Yellowstone National Park -- one of the last havens they have left.

Please take action now: Urge Interior Secretary Ken Salazar and Agriculture Secretary Tom Vilsack to prohibit the annual ritual of hazing and slaughtering of America's wild bison.

Each winter, Yellowstone's bison migrate from snow-covered highlands to lower elevations outside the park's boundaries in search of food.

But because of an unsubstantiated fear that bison will transmit a disease called brucellosis to domestic cattle, bison face a grim fate: Harassed back into the park where food is scarce; shot on sight; or shipped off to slaughter.

This out-dated and terrible policy continues even though there has never been a documented case of a wild bison transmitting the disease to cattle. Yet over the last five winters, thousands of bison have been needlessly harassed and killed.

Take action now: Urge federal officials to end the slaughter of America's last genetically pure wild bison.

Your voice can make a difference for some of America's last wild bison -- descendants of those that survived the horrific slaughter of the 1800s. Please take action today and help end their terrible plight.

Together we can ensure that America's wild bison will be restored to the American West.
2 Other petitions to sign :
http://www.change.org/petitions/view/stop_the_yellowstone_bison_slaughter
http://www.thepetitionsite.com/takeaction/713/901/667/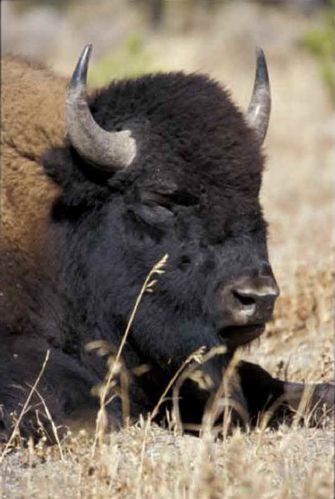 Cross breeding with cattle threatens the genetic purity of bison. The few remaining genetically pure wild bison must be conserved separate from cross-bred bison to protect pure bison genes.
Today, the bison of Yellowstone National Park also face the threat of slaughter when they cross park boundaries and enter the state of Montana. The Montana Department of Agriculture fears the contamination of cattle by bison carrying the disease brucellosis, although there are no known cases of brucellosis passed by bison to domestic cattle in the wild.
In April 2008, more than 50,000 Defenders activists wrote messages to Montana tourism officials expressing outrage over this senseless slaughter. In response, Montana Governor Brian Schweitzer announced a deal with Yellowstone National Park to create a much-needed winter corridor outside the park for these icons of the American West. This agreement – although not an ultimate solution – means that at least some bison will finally be able to leave the park when they need food to survive the winter.
Defenders at Work
To help overcome the challenges faced by American bison, several scientists, government agencies, tribes, first nations, and non-governmental organizations are working together to conserve North America's bison. The Bison Specialist Group of the World Conservation Union's Species Survival Commission is drafting a status report and conservation action plan for North American bison.
The document will serve as a benchmark against which to evaluate conservation and recovery into the future and will provide guidelines for reintroductions and management of public and private herds.
Defenders of Wildlife will work with several others to implement the guidelines of the completed action plan. In the meantime, Defenders is working now to protect Yellowstone's bison herd from slaughter, and to restore or increase bison herds on public lands. Learn more >>
Endangered Species Act (ESA): Wood Bison are listed as endangered. Plains bison are listed as under review.
IUCN Red List: Bison are listed as near threatened.
CITES: Wood bison are listed in Appendix II.
from : http://www.defenders.org/wildlife_and_habitat/wildlife/bison.php