2 recipes♥: Tunisian Winter Squash Salad &Winter Squash With Caramelized Onions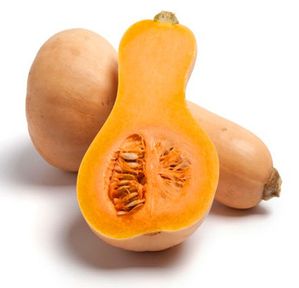 Joan Nathan
1 : Tunisian Winter Squash Salad With Coriander and Harissa Recipe
Ingredients
1 pound butternut or kabocha squash, peeled and cut into large chunks
1 teaspoon salt, plus more to taste
1 clove garlic, unpeeled
1 teaspoon harissa (a North African hot sauce available in specialty shops)
1/4 teaspoon ground coriander
Juice of 1/2 lemon
1 tablespoon olive oil
Preparation
1. Bring about 6 cups of water to a boil in a large pot. Then add the squash, salt and the garlic clove. Lower the heat and simmer until the squash is very tender.
2. Remove the squash to a mesh strainer, and squeeze the garlic out of its skin into the strainer. Mash the two together to help get rid of excess water.
3. Transfer the mixture to a large bowl and stir in the harissa, salt to taste, the coriander, lemon juice and olive oil. Taste, adjust the seasonings, then serve.
Yield: 4 servings.
http://www.nytimes.com/interactive/2010/11/08/health/20101108_thanksgiving.html?src=me&ref=health#30
2 : Cassolita (Winter Squash With Caramelized Onions
i love Caramelized onions:)))
Ingredients
2 pounds butternut, calabaza or kabocha squash, halved lengthwise and seeded
3 tablespoons vegetable oil
1/2 cup slivered almonds
2 pounds onions, peeled and sliced thinly in rounds
Salt to taste
1 bunch flat-leaf parsley, finely chopped
2 teaspoons plus 1 tablespoon sugar (optional)
1 teaspoon ground cinnamon
1/2 cup raisins
Freshly ground pepper to taste
Preparation

1. Preheat the oven to 350 degrees.
2. Place the squash, cut-side down, on a rimmed baking sheet. Add 1/4 cup of water, cover with aluminum foil, and bake until the squash is very soft, about 30 minutes. Remove from the oven, and, once cool enough to handle, scoop out the pulp into a large bowl.
3. Heat the oil in a large skillet, and toss in the almonds and cook until golden. Remove to a plate with a slotted spoon, and set aside. Sauté the onions in the same pan over medium heat until translucent. Then add salt to taste, 2 tablespoons of the parsley, 2 teaspoons of the sugar, the cinnamon and the raisins, and continue to cook, stirring occasionally, for about 30 more minutes or until the onions are caramelized.
4. Gently fold the onions into the squash. Season with pepper and more salt, if necessary, and sprinkle with the remaining parsley, the almonds and, if you wish, the extra tablespoon of sugar. Serve immediately, or make ahead and reheat.
Yield: 8 servings.