THESE CHIMPANZEES DESERVE A CHANCE AT A NORMAL LIFE !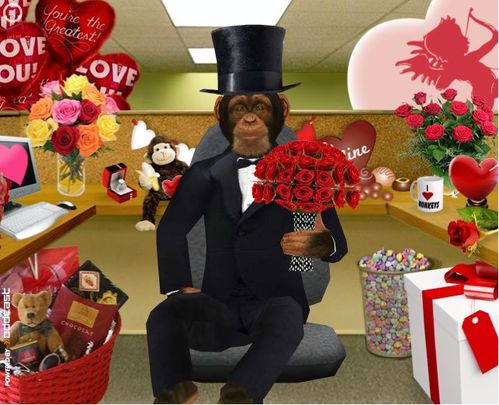 PETA Ramps Up Pressure Against CareerBuilder
You have played a vital role in our campaign against CareerBuilder, and together, we've really gotten the word out about the company's cruel chimpanzee-exploiting ad! Check out some highlights below and then give yourself a nice long pat on the back:
So far, 31,000 people have taken action against CareerBuilder online at PETA.org.
***PLS SIGN :
https://secure.peta.org/site/Advocacy?cmd=display&page=UserAction&id=3494&p=fbcause&c=causescbpettn0211
On Super Bowl Sunday, several PETA supporters changed their Facebook profile pictures to chimpanzee avatars and took over the CareerBuilder Facebook page.
http://www.facebook.com/careerbuilder?sk=wall
http://www.peta.org/b/thepetafiles/archive/2011/02/06/help-us-crash-careerbuilder-s-super-bowl-party.aspx?c=causescbpettn0211
PETA activists made a splash outside CareerBuilder headquarters in Chicago
http://chicago.cbslocal.com/2011/02/08/peta-angry-over-chimps-in-careerbuilder-ad/
and Atlanta, wearing chimpanzee masks and holding protest signs.
When the ad aired, Advertising Age,
http://adage.com/superbowl/article?article_id=148714
the leading publication in the ad industry, published an article on PETA's CareerBuilder campaign
and our successes in getting advertising agencies to adopt policies that prohibit the use of chimpanzees in ads. That same day, Advertising Age also published an editorial piece titled, "Memo to Adland: Enough With the Monkey Business," which strongly condemned CareerBuilder's ad.
http://adage.com/superbowl/article?article_id=148714
The Christian Science Monitor
http://www.csmonitor.com/Commentary/Opinion/2011/0207/Super-Bowl-commercials-What-happens-to-those-CareerBuilder-chimps
reached tens of thousands when it wrote, "Chimpanzees used in commercials are mostly infants and juveniles who were taken away from their mothers ... so they can be trained to perform for entertainment and advertising. ... Since they usually only have a working 'shelf life' of about 6 to 8 years (while still juveniles), they rarely can be handled and worked as adolescents and adults, and most often end up discarded out of show business."
Anywhere CareerBuilder turns, opposition to its abuse of chimpanzees stands strong.
We are right on the company's heels, and we can't let up now!
Chimpanzees who have suffered at the hands of CareerBuilder deserve a chance at a normal life..
Will you continue in the fight against CareerBullies?
***Call the company at
773-527-1164
Business Hours
Mon-Fri 8:30 AM - 8:30 PM
*use your skype :)
here also :CareerBuilder Customer Support
http://www.careerbuilder.com/JobSeeker/Help/
*** urge it to stop exploiting chimpanzees in its ads
And a POEM by Karen Lyons Kalmenson
these great apes share 98% of our DNa
so why does mannotsokind treat them
this way
exploiting them as if this was "cute"
for the purpose of entertainment and


...

earning loot
well we do not like this
this nonsense has to cease
they need to live in freedom
from human cruelty, released