TEMPEH benefits and 2 recipes :BBQ Tempeh Sandwiches and Patties♥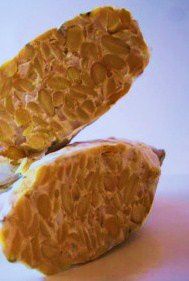 Tempeh has been a staple food in Indonesia for hundreds of years.
Tempeh is very nutritive and contains many health promoting phytochemicals such as isoflavones and soy saponins.
Tempeh fermentation produces natural antibiotic agents but leaves the desirable soy isoflavones and most of the saponins intact.
*** Tempeh is a complete protein food that contains all the essential amino acids
Unlike tofu, which is made from soybean milk, tempeh contains whole soybeans, making it denser.
Because of its density, tempeh should be braised in a flavorful liquid for at least one hour prior to cooking. This softens it up and makes the flavor milder.
TEMPEH is made by inoculating cooked soya beans with a starter culture which grows through the beans and binds them together into a solid cake.
To cook, simply slice and fry gently until golden brown.
It is delicious in pitta bread or a wrap with a salad and a good sauce.
Tempeh can also be marinated before cooking
*** BBQ Tempeh Sandwiches Topped With Multicolor Slaw
Makes 6 servings
For the BBQ Tempeh:

1 lb. tempeh
1/2 cup soy sauce
1/2 cup apple cider vinegar
1/2 cup maple syrup
1/2 cup olive oil
2 tsp. chipotle powder
1 tsp. dried thyme
1 tsp. sweet paprika
1 tsp. cumin

For the Slaw:

1 cup shredded green cabbage
1 cup shredded red cabbage
1/4 cup finely diced onions
2 Tbsp. vegan mayonnaise (try Vegenaise)
1 Tbsp. apple cider vinegar
1/4 tsp. celery salt
Salt and pepper, to taste

To Assemble:

6 kaiser rolls, sliced in half
For the BBQ Tempeh:

• Preheat the oven to 450ºF. Cut the tempeh in half lengthwise, then cut the 2 slabs in half widthwise (as if you were slicing a roll), creating 4 squares that are nearly identical in size. Next, cut the tempeh into smaller strips, about 1 by 3 inches. Arrange in a single layer in a 2- to 3-inch-deep baking dish and set aside.*
• Whisk together all the remaining ingredients. Pour over the tempeh, coating evenly. Cover tightly with aluminum foil and bake for 45 minutes. Remove the aluminum foil and bake, uncovered, for an additional 10 minutes. Remove from the oven and set aside.

For the Slaw:

• In a medium-size bowl, combine the cabbage, onions, vegan mayonnaise, and vinegar. Mix until well combined. Add the celery salt, salt, and pepper. Keep in mind that the tempeh will be both spicy and slightly salty! Cover and store in the fridge until ready to assemble the sandwiches.

To Assemble:

• Lightly toast the rolls. Pile as much of the tempeh as you'd like onto one half of each roll. Top with some of the slaw and the other half of the roll and enjoy.
*** Tempeh Patties ( about 10 )

Ingredients

12 ounces of tempeh, sliced
2 ognions ( white ) chopped
1 garlic clove, chopped
a teaspoon of chili past as harissa
juice from 1 lemon
1 teaspoon of sugar
5 tablespoons of flour
1 banana
In a food processor, combine all the ingredients
Process into a smooth paste.

Shape the dough into small patties.
you can add a bit of flour if necessary.

Heat olive oil in a large frying pan
When hot, add the tempeh patties and fry until golden brown - roughly 4 - 5 minutes.
both sides must be golden brown
*olive oil for frying

Drain on paper towels.
you can add cracked black pepper and parsley chopped
about 10 patties.
♥can be served with a green salad
or cooked spinach served cold with olive oil
After braising, you can dredge the tempeh in flour, corn meal, or a mixture of ground nuts and flour and panfry it.
Then try adding it to a sauce and continue cooking it for an enhanced flavor.
PETA's famous Tempeh Creole recipe
http://www.vegcooking.com/recipeshow.asp?RequestID=688&Search=creole
is an example of how satisfying tempeh can be.