Tempeh and Wild Mushroom Fricassee recipe♥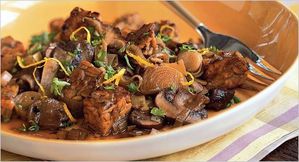 From "Cooking Light Way to Cook Vegetarian''
Ingredients
Cooking spray
12 ounces tempeh, cut into 1/2-inch cubes
1/4 cup dry white wine
2 tablespoons less-sodium soy sauce
4 cups thinly sliced leeks (about 4 large)
2 cups sliced button mushrooms
2 cups sliced cremini mushrooms
2 cups diced shiitake mushroom caps (about
4 ounces)
2 (4-inch) portobello mushroom caps, gills removed, chopped
1 tablespoon all-purpose flour
1/3 cup celery leaves
2 thyme sprigs
1 parsley sprig
1/2 cup thinly sliced garlic (about 20 cloves)
1 (14 1/2-ounce) can organic vegetable broth
1 tablespoon fresh lemon juice
1/4 teaspoon fine sea salt
1/4 teaspoon freshly ground black pepper
2 tablespoons chopped fresh parsley
1 tablespoon grated lemon rind
Preparation
1. Heat a Dutch oven coated with cooking spray over medium-high heat.
Add tempeh; sauté 8 minutes or until golden brown. Add wine and soy sauce; cook 15 seconds or until liquid almost evaporates.
Remove tempeh from pan.
2. Add leeks and mushrooms to pan; sauté 5 minutes. Stir in flour; cook 1 minute, stirring frequently. Tie celery leaves, thyme sprigs and parsley sprig together securely with string. Add herbs, garlic and broth to pan; bring to a boil. Add tempeh, stirring well. Cover, reduce heat and simmer 15 minutes.
3. Uncover and cook 3 minutes or until thick. Discard herbs. Stir in lemon juice, salt and pepper; sprinkle with parsley. Garnish each serving with 1/2 teaspoon lemon rind, if desired.
Yield: 6 servings (serving size: 1 cup).
Nutrition information per serving (serving size: 1 cup):
calories: 317; fat: 10.4 grams (saturated 2 grams, monounsatured 2.6 grams, polyunsaturated 3.6 grams); protein: 23.7 grams; carbohydrate: 37.8 grams; fiber: 8.6 grams; cholesterol: 0 milligrams; iron: 6.2 milligrams; sodium: 898 milligrams; calcium: 206 milligrams.
from : http://www.nytimes.com/interactive/2010/11/08/health/20101108_thanksgiving.html?ref=health#0