Summer Fruit and vegetable list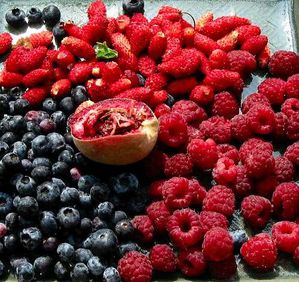 Summer Fruit and vegetable list
***
SUMMER FRUIT IN SEASON JUNE TO AUGUST♥


These fruits come into season gradually over the summer months.
Some, like strawberries, start to disappear from mid-July, while others, like the currants, don't come into their own until later on in the summer.
•Apricots Eat on their own; halve, stuff and bake; cook and puree to use in ice cream, mousse or soufflé.

•Blackberries Pick from the hedgerows at the end of summer, rinse thoroughly before use. Perfect stewed with apples, alone or in crumbles and pies.

•Blackcurrants Their intense flavour is best mixed with other fruits like strawberries, raspberries or apples. Puree and use in fools and ice creams. Try these delicious Blackcurrant Recipes

•Blueberries Sweet enough to eat raw without sugar. Also good with pancakes, in cakes, lightly stewed and spooned over ice cream, or baked into healthy blueberry muffins.

•Cherries Sweet varieties are good raw and can be added to salads and fruit salads. Sharper varieties need cooking, to use in tarts, compotes, pancake fillings.

•Gooseberries are very versatile.

•Loganberries A cross between a raspberry and a blackberry, these are quite hard to come by. They're good raw with sugar and soja cream, pureed as a sauce, or to make a mousse or fool.

•Plums Lots of different varieties, available right through the summer. Most are sweet enough to eat raw, or you can bake them, or make them into crumbles, pies or tarts. Try slices added to green or fruit salads.

•Raspberries Eat raw, mix with other summer fruit in red fruit salads or compotes, use to fill flans or scones, puree to make sorbet, ice.;


•Redcurrants Very pretty, but very tart. Add to blackcurrants and stew with sugar for pies, crumbles or summer pudding.

•Strawberries, favourite of all the summer fruit. ONLY ORGANIC...

•Whitecurrants See redcurrants.


SUMMER VEGETABLES IN SEASON JUNE TO AUGUST:


•Asparagus Trim off 'scales' and tough root end, poach, steam, or roast with a little olive oil. Dress with vinaigrette or oil and lemon juice..

•Aubergine (Eggplant) There's no need to salt and drain aubergine. Rather than frying, try roasted aubergines
. Slice them, brush with oil and bake in oven until tender, then use in casseroles and bakes. Ideal with tomatoes and spices.

•Broad beans If you grow your own, you can enjoy the beans whilst tiny and tender. Shops usually carry larger pods, and the beans are less digestible. Cook these in a little water until tender, then remove the skins before serving. Use in salads, serve pureed, or add to soups.

•Broccoli Cut into florets and steam or stir-fry briefly to preserve nutrients. Makes excellent soup.

•Carrots The smaller, the sweeter. Remove feathery green leaves before storing. Use raw, steam, stir-fry or roast. A dash of orange juice brings out the flavour.

•Cauliflower Can be used raw in salads, steamed or stir-fried. Cook lightly for best flavour. Mild flavour marries well with spices or vinaigrette dressing.

•Celery Cut into sticks for snacking, chop into salads, use to add flavour to soups and stocks, braise as an accompaniment.

•Courgettes (Zucchini) Young, small ones have best flavour, and are less watery. Slice, grate or cut into ribbons to cook, or scoop out seeds, stuff and bake. They can be steamed, sautéed, stir-fried..

•Cucumbers Peel and cut into fingers for snacks, slice or chop into salads, add to bulgar or salads.....

•Fennel Aniseed flavour is most pronounced when raw. Chop finely into salads, cook on barbecue, or bring out the sweet flavour by braising gently in a little olive oil until lightly browned.

•French beans Top and tail, then steam lightly. Eat hot, or leave to cool and use in salads.

•Globe artichoke Remove stalks, then sit artichokes in a pan of boiling water and cook for 30-40 mins, until a leaf can be easily pulled away. Cool, pick off leaves and dip bases in dressing to eat. The central heart is the best bit.

•Herbs Buy tender varieties, like dill, basil, coriander, in bunches and chop them generously into salads, stuffings, rice and grain dishes, or use to make pesto.

•Leeks Look out for baby leeks, to steam and serve whole. To clean leeks, remove root and tough green leaves, then slash vertically from the top and wash under running water, separating the layers to remove all traces of dirt. Shred or slice to cook, by steaming or stir-frying. Great in soups also.

•Lettuce Dozens of different types, so you can try them all over the summer. Wash and spin dry, shred or tear. Most usually eaten raw, but can also be added to stir-fries or soups.

•Mange-tout (snow peas) Use in snow pea recipes.

•Peas (in pod) Best when young and small. Pop them out of the pods, use raw in salads, or lightly steamed. Add to risottos, use in soups, stew gently with a couple of lettuce leaves for added sweetness.

•Peppers Red, yellow, orange, green, even purple.
Flavour is enhanced with chargrilling, either under the grill, or by baking in hot oven for 20 mins until blistered.
Put in a bag so that the steam loosens skins. Peel and slice. Peppers are delicious raw in salads.;

•Potatoes Tiny new potatoes are excellent in salads, or can be steamed or roast in their skins in a hot oven for 20 mins. .

•Radishes Longer, white-tipped varieties are less fiery than the round red ones. Good in salads and chopped into stir fries.

•Runner beans Smaller beans are more tender. Top and tail and remove strings, then slice or cut into chunks and steam lightly.

•Snow peas (mange-tout) Use in snow pea recipes.

•Spinach Choose young, tender leaves. Wash thoroughly and remove tough stalks. Use raw in salads or steam and chop. Good in curries with other vegetables, as part of a filling for savoury tarts, pancakes , or in soup.

•Swiss chard Dark green leaves and red stems. Use as for spinach. Stems can also be cooked on their own.

•Tomatoes Serve raw in salads, or use in a range of tomato recipes . At their sweetest and best in the summer.

•Watercress Peppery flavour is good in a mixture of other leaves. .

Print this list out, and pin it up, where it can inspire you to try more summer fruit and vegetables.