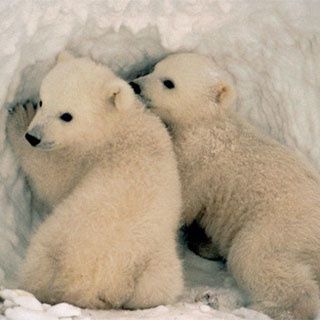 Not Too Late to Save Polar Bears -- Act Today!!
On Tuesday hundreds of climate scientists, biologists and a broad coalition of faith, human-rights, social justice and environmental groups called on Interior Secretary Ken Salazar to follow the best available science in his upcoming decision on Endangered Species Act status for the polar bear. As part of ongoing litigation by the Center for Biological Diversity and our allies, Salazar has until Dec. 23 to reconsider whether polar bears should be classified as "endangered" rather than merely "threatened." Granting the bear "endangered" status would close a loophole exploited by the Bush administration to exempt greenhouse emissions -- which melt the bear's sea-ice habitat and pose its greatest threat -- from regulation under the Act.
The day after scientists and citizen groups sent in the letters, the science journal Nature published an extensive study adding weight to our urgent call for protecting polar bears to the greatest extent possible -- as soon as possible. According to the study, Alaska bears face a more than 80-percent chance of extinction by 2050 if current greenhouse gas emissions continue. If we curb emissions to reduce atmospheric CO2 to 450 parts per million by 2020 (and adopt other bear-protecting measures), that risk will be reduced to about 25 percent. "While this study is encouraging, a 25-percent extinction probability for Alaska's polar bears is still far too high," said the Center's Kassie Siegel, who wrote the 2005 petition to protect the species. "To truly ensure the persistence of polar bears, we must also do everything possible to reduce atmospheric CO2 levels to no more than 350 ppm."
Check out our press release and get more from Reuters. Then take action for polar bears before Dec. 23.