Où reporter les actes de cruauté envers les animaux.Where to report crush videos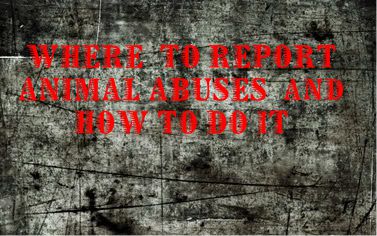 About Animal abuses and Crush videos :
http://isabella-vegan-page2.over-blog.com/article-animal-abuses-and-crush-videos-on-internet-68626511.html
English here :
Important PLS read here :
about what to do and what you MUST NOT DO :
http://isabella-vegan-page2.over-blog.com/article-where-to-report-animal-abuses-and-crush-videos_p2_-68626867.html
Comment dénoncer des actes de cruauté envers les animaux y compris les combats de chiens
http://www.pet-abuse.com/pages/animal_cruelty/animal_fighting.php
ou autres combats d'animaux .
Que faire lorsque vous rencontrer des vidéos montrant des cruautés sur les animaux = Crush videos
ou des albums de photos ( comme sur Facebook par exemple )
1/ Notez toutes les informations , si vous les avez de la personne qui partage ces horreurs
Nom, lieu, lien de son profil ( Facebook, Myspace ou autre)
copier sa photo de profil dans votre P.C avec ses références
NE CONTACTEZ JAMAIS LA PERSONNE ou GROUPE
que ce soit un profil_groupe_site internet !
les personnes concernées pourraient faire disparaitre les preuves ou changer de site ou de lieu !!
2/ contactez la police de l'endroit où se situe les actes et où les animaux sont en souffrance et en danger .
si vous connaisez l'endroit
et contactez les organisations/associations compétentes dans les Droits des Animaux du pays/ de la ville _ si vous les connaissez _
3/ DENONCER la personne_le site_les vidéos_album de photos
*** IMPORTANT : enregistrer les photos avec le nom du criminel ( sa photo, si possible, son nom, lieu, pays ).
garder des informations au cas où elles seraient effacer ( surtout sur Facebook ou MySpace )
Crimes basés aux USA _vous devez savoir que les criminels peuvent être n'importe où dans le monde_
FBI :

http://www.ic3.gov/complaint/default.aspx

plus d'informations ici :http://www.ic3.gov/
et :
http://www.justice.gov/criminal/cybercrime/reporting.htm#cc

Crimes aux USA et/ ou crimes internationaux :
Send message to INTERPOL

here : http://www.interpol.int/public/mail/mail3.asp?id=info

FBI : https://tips.fbi.gov/
4_ Faire DESACTIVER le site
Les CRUSH VIDEOS sont en effraction de la loi et des accords ISP ( fournisseur de services internet )
a) FAIRE UN RAPPORT à l' ISP :
Pour faire un rapport à l'ISP, vous devez trouver les informations de qui héberge le site.

Cliquer ici : http://www.domaintools.com/ entrez l'URL du site dans le "Whois Lookup" boite de recherche et cliquez sur le bouton de recherche.

2. Faites défiler la page de résultats jusqu'à ce que vous trouviez le Protocole Internet (IP / Adresse IP du site) attribué au site.

3. Ensuite, cliquez sur http://www.arin.net/ (American Registry for Internet Numbers) et entrez cette adresse IP dans la "Recherche WHOIS", puis cliquez sur le bouton de recherche.

4. La page de résultats de recherche fournira des renseignements sur le fournisseur de services Internet qui héberge le site. La page peut également afficher des informations sur la façon de signaler les abus.

5. Si elle ne le fait pas, cliquez sur http://www.search.org/programs/hightech/isp/ et trouvez les coordonnées complètes de l'ISP sur la liste.
RETENEZ QUE CES INFORMATIONS seront à reporter _si possible _ dans votre RAPPORT IC3
6.Faites des rapports sur ces liens également ou cliquez dessus pour plus d'informations :
http://www.stopcrush.org/?page_id=194

http://www.americanhumane.org/about-us/newsroom/fact-sheets/internet-animal-abuse.html
http://www.aspca.org/fight-animal-cruelty/reporting-cruelty-faq.html
http://www.aspca.org/fight-animal-cruelty/cruelty-pledge-cat.html
https://www.ecops.be/webforms/Default.aspx?Lang=FR
http://www.pet-abuse.com/pages/animal_cruelty/reporting_abuse/cruel_websites.php
PETA: PETA abuse
http://www.peta.org/actioncenter/onlinecruelty.asp
http://www.peta.org/about/c-contact.asp
RSPCA
international@rspca.org
Mercy For Animals
Email: Info@MercyForAnimals.org
The Humane Society of the United States
Email :humanesociety@humanesociety.org
IDA_USA_In Defense of Animals
3010 Kerner Blvd, San Rafael,
California 94901
Tel.: +1 415 448 0048
Fax: +1 415 454 1031
idainfo@idausa.org
Contacts:
http://www.idausa.org/contact.html
IDA _ MEDIA INQUIRIES
Rachel Weil
Weil Public Relations
rachel@weilpr.com
or 818-341-3646

Subj : Cruelty or Crush Video or what is concerning your report
Put your informations about the criminals, including site link
and IP address if you have .
Example de lettre à envoyer / Sample letter to send
"To Whom It May Concern:

I have been notified of a particular website that depicts violent acts of animal cruelty. These images are extremely disturbing and clearly establish blatant and vicious crimes against animals; once you review the provided material, you will understand this is demonstrative of unlawful acts of animal cruelty as established by the AWA and relevant local and international statutes. I respectfully request that your resources be applied to investigating and prosecuting these perpetrators and disbanding the website.

Thank you for your time and attention."

Name
Country
*** ENGLISH:
If I see animal cruelty on the Internet, what should I do?
1 : DO NOT CONTACT THE ABUSERS or LET messages on pages/groups/sites..
If he is alerted he can remove the video/photos/ each proof !
He can move to an other place too!
2 : Call the police if possible
AND:
3 :
Immediately contact the Internet Crime Complaint Center (IC3), a partnership between the FBI and the National White Collar Crime Center, at

http://www.ic3.gov/

.

The website will direct you to the page where you can file your complaint. At first glance, it may appear that the website will only consider complaints of Internet monetary fraud. However, IC3 is the proper venue for all Internet crimes, including animal abuse.

IC3 can best process your complaint if the information you provide is as detailed and complete as possible. This includes providing the complete URL (website address) for the website that displayed the suspected animal cruelty.

Even if you are located outside the United States, IC3 will review your report as long as the suspected abuser is located in the United States.
What happens after I file a report with the IC3?
IC3 will email your report ID and password to you, along with a link to an area on the IC3 website where you can view your report and enter any additional information.

Upon receipt of your report, IC3 will carefully evaluate it and refer it to the appropriate federal, state, local or international law enforcement or regulatory agencies. Every report that is referred is sent to one or more law enforcement or regulatory agencies that have jurisdiction over the matter. At that point, the report may be assigned to an investigator. IC3 cannot guarantee that your complaint will be investigated.
What else can I do?
Because abusive content often violates the user agreement that the creator of the website has signed with the Internet Service Provider (ISP), notifying the ISP about the abusive content may result in the website being removed from the Internet.

To make a report to the ISP, you need to determine who hosts the website. To do that, go to

http://www.domaintools.com/

, enter the website URL in the "Whois Lookup" search box and click on the search button. Scroll down the results page until you find the numerical Internet Protocol (IP) address assigned to the website. Then go to

http://www.arin.net/

(American Registry for Internet Numbers) and enter that IP address in the "Search WHOIS" box and click on the search button. The search results page will provide information about the ISP that hosts the website. The page also might display information about how to report abuse. If it does not, go to

www.search.org/programs/hightech/isp

and find the complete contact information for the ISP on the list. All of this information should also be included in your FBI complaint form, where possible.
If you believe an animal is in immediate harm, and if the location is known, contact local police and your local FBI branch office as soon as possible. To locate your local FBI branch, visit

http://www.fbi.gov/contact/fo/fo.htm

.
How does the law currently handle Internet animal cruelty?
Because communications through the Internet have the ability to cross state lines, the Internet is largely governed by federal law. Improving the federal laws as they pertain to Internet animal abuse is critical.
Currently, only a few federal laws address the issue directly:
The Crush Act (P.L.106-152) penalizes the display of acts of cruelty and sexual abuse of animals that is intended for interstate commerce.

If convicted, offenders may receive up to five years in prison or a large fine. Two criteria must be met before this statute applies: 1) actual abuse must occur and 2) the website in question must intend to sell the images across state lines. In other words, a website may legally display images of animal cruelty and sexual abuse under this law as long as it is not charging visitors for access or otherwise selling the images.

In 2005, the first conviction under this statute occurred in a federal district court in Virginia.

The Animal Fighting Prohibition Enforcement Act (P.L. 110-27) strengthens the ability of law enforcement to combat animal fighting by providing felony penalties for interstate commerce, import and export related to animal fighting activities, including commerce in cockfighting weapons. Each violation of this federal law is punishable by up to three years in prison and up to a $250,000 fine for perpetrators.
Internet Hunting: The Computer-Assisted Remote Hunting Act (H.R. 2711/S. 2422) is a pending federal bill introduced by Rep. Brad Sherman (D-CA) and Sen. Sheldon Whitehouse (D-RI). It seeks to prohibit knowingly making available a "computer-assisted remote hunt" (using a computer or other device, equipment or software to control the aiming and discharge of a weapon to hunt).
Important links here :
http://www.stopcrush.org/?page_id=194
http://www.peta.org/action/get-active-online/cruelty-on-the-internet.aspx
*** : http://www.americanhumane.org/about-us/newsroom/fact-sheets/internet-animal-abuse.html
where i have copied the englist text
***USA
New York Area
How can I report cruelty to animals?
In NYC: Cruelty situations involving animals in New York City should be reported to the ASPCA's Humane Law Enforcement Department at (212) 876-7700, ext. 4450, or humanel@aspca.org.
++
Here an important note from Joanna KARA :
http://www.facebook.com/note.php?note_id=460368273804
http://www.nansealove.com/stopcrush.html
***Pet abuse Pet-Aduse
And you have above all links about PETA, IDA ect... + at the end of the french text and the letter to send ;

*** CONTACT THE MEDIAS ! CONTACTEZ LES MEDIAS
Le journal principal du pays concerné ou de la capitale.
to contact newspapers is a good thing ..
*** SHARE with your communities online ( friends, blogs, post on Facebook _private threads are better _bcause if you put a name on Facebook /Myspace/Twitter ect...he CAN BE ALERTED !)
or other place warning people to do not contact the abusers .
*** PARTAGEZ AVEC VOS COMMUNAUTES ONLINE , en faisant bien attention que le nom n'apparaisse pas, le criminel pourrait être averti et de ce fait il pourrait retirer toutes preuves ou changer de site !!
sur Facebook, je trouve préférable de tager vos amis dans les commentaires privés pour mener à bien les actions et le dénoncer .
*** ASK FOR STRICTER LAWS TO PROTECT ANIMALS.
*** DEMANDEZ DES LOIS STRICTES POUR LES ANIMAUX.
*** ASK MAXIMUM PENALTIES against abusers
Quand ces criminels sont arrêtés , groupez vous, faites des pétitions pour demander le maximum de la peine .
Des organisations et Associations peuvent se porter partie civile : contactez les aussi.
PETITION TO SIGN :
It's back in the Senate's hands to help stop this extreme form of animal torture. Please contact your Senators today and ask them to support passage of H.R. 5566.

Thank you for supporting this important legislation and speaking out against animal cruelty,
petition here :
http://animals.change.org/petitions/view/final_push_to_outlaw_animal_crush_videos?share_source
Et, dernière chose les combats de chiens sont des actes de cruautés , aux USA :
***Taking Action To Stop Dogfighting :
http://www.humanesociety.org/issues/dogfighting/tips/dogfighting_action.html
November 2010 : http://www.humanesociety.org/issues/dogfighting/end_dogfighting.html
If you live in a state where dogfighting penalties are deficient (like California, New York, or several others), write to your state legislators
and urge them to upgrade the law. Wherever you live, urge your local, state and Congressional representatives to support better funding for enforcement of animal fighting laws.
http://www.humanesociety.org/news/multimedia/
http://www.humanesociety.org/assets/pdfs/animal_fighting/dogfightingposter07.pdf
USA : . If you suspect dogfighting in your own neighborhood, alert local law enforcement. Urge your local officials to contact The HSUS for practical tools, advice, and assistance. The HSUS has a standing reward—now doubled to $5,000—for information leading to a conviction of illegal dogfighting.
How to Spot Signs of Dogfighting in Your Community
An inordinate number of pit bulls being kept in one location, especially multiple dogs who are chained and seem unsocialized
Dogs with scars on their faces, front legs, and stifle area (hind end and thighs)
Dogfighting training equipment such as treadmills used to build dogs' endurance, "break sticks" used to pry apart the jaws of dogs locked in battle, tires or "springpoles" (usually a large spring with rope attached to either end) hanging from tree limbs, or unusual foot traffic coming and going from a location at odd hours
http://www.humanesocietyuniversity.org/
AND THIS FOR EACH COUNTRY ( contact your official reresentatives ) WHERE DOGFIGHTING PENALTIES ARE DEFICIENT !!!
**** also TO REPORT HERE :
http://www.pet-abuse.com/pages/animal_cruelty/animal_fighting.php
xxxxxxxxxx
des lois sont applicables
SUISSE :
les lois :
http://www.sgpa.ch/_zdocs/22/pubpdf/20040316174953LoisurlaProtectiondesAnimaux-LPA.pdf
http://www.sgpa.ch/_zdocs/22/pubpdf/040316175054OrdonnacesurlaProtectiondesAnimaux.pdf
http://www.sgpa.ch/_zdocs/22/pubpdf/20040322005639loi_genevoise_sur_les_chiens.pdf
http://www.sgpa.ch/_zdocs/22//398984302546296_____chiens_genevois.pdf.pdf
Tel à la Police communale http://www.geneve.ch/police/nos-services/gendarmerie/postes-de-police/
qui enverra un agent sur place, donnez vs coordonnées
SPA GENEVE
Refuge de Vailly - 5, av. de Cavoitanne - 1233 Bernex - Genève
Tél. 022 757 13 23 - Fax
mais ailleurs ?? en Europe ???
FRANCE :
Les combats de chiens sont interdits en France.
Plusieurs lois peuvent réprimer ce genre de pratique.
- Celles concernant les sévices envers les animaux:
Article 521-1 Modifié par Ordonnance n°2006-1224 du 5 octobre 2006 - art. 6 JORF 6 octobre 2006
"Le fait, publiquement ou non, d'exercer des sévices graves, ou de nature sexuelle, ou de commettre un acte de cruauté envers un animal domestique, ou apprivoisé, ou tenu en captivité, est puni de deux ans d'emprisonnement et de 30000 euros d'amende.
Merci à Eve pour ces infos
Les combats illégaux sont à dénoncer à la police et aux organisations !!!
liste ici :http://www.30millionsdamis.fr/la-fondation/annuaire.html
il faudrait demander des lois plus strictes et en conséquence.
ITALIE:
Pour dénoncer en ITALIE/To report DOG FIGHTING in Italy :
http://www.neteditor.it/content/140133/combattimento-tra-cani-aida-denuncia
thanks to Loredana
AND DO NOT GIVE UP / N' ABANDONNEZ PAS _PLUS NOUS SERONS NOMBREUX _ PLUS NOUS POURRONS FAIRE ATTRAPER ET PUNIR CES CRIMINELS!
Merci/Thank you
Abusers Near You?
http://www.exposeanimalabusers.org/section.php?id=165
Wouldn't you want to know if a violent or repeat animal abuser were living next door to you and your family? Animal abusers are five times more likely to commit violent crimes against people and four times more likely to commit property crimes than are individuals without a history of animal abuse.

Convicted animal abusers pose a real, ongoing threat to your pets, your family, and your community. The Animal Legal Defense Fund's proposed abuser registry legislation would require mandatory registration and community notification for convicted animal abusers. These laws would make a dramatic difference in keeping offenders away from potential new victims by allowing animal shelters and humane societies to more thoroughly screen potential adopters—and by alerting the public to their whereabouts.

http://org2.democracyinaction.org/o/5154/p/dia/action/public/?action_KEY=1683
*** IMPORTANT :
Sign on to demand that your state require animal abusers to register in their communities.:
http://aldf.org/article.php?list=type&type=163
from : http://aldf.org/