Lentilles/Lentils_Lentil and Escarole Soup Recipe♥
http://en.wikipedia.org/wiki/Lentil
http://fr.wikipedia.org/wiki/Lentille_cultiv%C3%A9e
If you have lentils, you have dinner. This high-fiber, protein-rich legume cooks in 20 to 40 minutes, depending on the dish, and requires no soaking. Lentils are the basis for many starters and salads, soups and stews, side dishes and Middle Eastern pastas. The distinctive flavor has been adapted to a variety of classic cuisines, from France to the Mediterranean, from India to Mexico and North America.

The usual supermarket offerings are brown lentils, but there are other varieties and they're all worth looking out for. Chefs prefer the pricier small black "beluga" lentils (in their raw state they glisten like caviar, but the resemblance stops there) and the firm green Le Puy lentils from France, because when cooked both types stay intact and maintain a firmer texture. But the flavors of all three are similar enough to make them interchangeable in this week's recipes.

Red lentils, available in Indian and Mediterranean markets, have a different taste, more akin to dried favas or split peas, and a very different texture when cooked, so do not attempt to substitute these for the brown, black or green varieties.

One fact worth noting: unlike other beans, lentils do not contain sulfur, the gas-producing element in legumes. And in addition to being an excellent source of soluble fiber and a good source of protein, manganese, iron, phosphorous, copper, vitamin B1 and potassium, lentils are an excellent source of molybdenum, a mineral important in the metabolism of fats, carbohydrates and iron. -- Martha Rose Shulman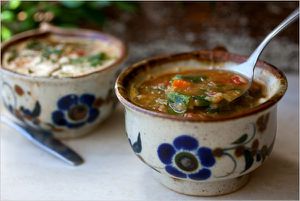 Lentil and Escarole Soup
The combination of legumes and bitter greens like escarole is common in southern Italy. Escarole is a bitter lettuce that looks a little bit like frisée but with wider, tougher leaves. It's high in vitamin A and a good source of iron and potassium. This recipe is adapted from one in "Cucina Rustica," by Evan Kleiman and Viana La Place.
2 tablespoons extra virgin olive oil
1 small onion, finely chopped
1 large or 2 small carrots, cut in small dice
3 to 4 garlic cloves, minced
1/4 teaspoon red pepper flakes
1 14-ounce can chopped tomatoes, with juice; or 3/4 pound tomatoes, seeded
and grated
1 cup lentils, washed and picked over
A bouquet garni made with a bay leaf, a few sprigs each thyme and parsley
6 cups water
Salt and freshly ground pepper
1 small head escarole, washed and roughly chopped (about 6 cups)
Optional: 4 to 6 slices country bread, toasted and rubbed with a cut clove of garlic
1. Heat 1 tablespoon of the olive oil over medium heat in a large soup pot or Dutch oven.
Add the onion and carrots. Cook, stirring often, until the onion is tender, about five minutes.
Add the garlic and red pepper flakes.
Cook, stirring, until the garlic is fragrant, 30 seconds to a minute.
Stir in the tomatoes. Bring to a simmer, and cook, stirring, until the tomatoes have cooked down slightly and smell fragrant, five to 10 minutes.
Add the lentils and simmer with the tomato mixture for a few minutes,
then add the bouquet garni and the water.
Bring to a boil, reduce the heat and add salt to taste (1 to 2 teaspoons).
Cover and simmer 30 minutes.
2. Add the escarole, and bring back to a simmer. Reduce the heat, cover and simmer for 15 to 20 minutes until the escarole and the lentils are tender.
Season to taste with salt and pepper. Remove the bouquet garni.
3. Toast slices of country bread if desired and rub with a cut clove of garlic.
Place a slice in each bowl, ladle in the soup and serve.
Yield: Serves four to six.
Nutritional information per serving (four servings): 289 calories; 7 grams fat; 1 gram saturated fat; 0 milligrams cholesterol; 43 grams carbohydrates; 10 grams dietary fiber; 262 grams sodium; 17 grams protein
Nutritional information per serving (six servings): 193 calories; 5 grams fat; 1 gram saturated fat; 0 milligrams cholesterol; 29 grams carbohydrates; 7 grams dietary fiber; 175 milligrams sodium; 11 grams protein
Martha Rose Shulman can be reached at martha-rose-shulman.com. Her latest book is "The Very Best of Recipes for Health."
recipe from :http://www.nytimes.com/2010/11/15/health/nutrition/15recipehealth.html?ref=lentils