Lent and Vegan Greek /Orthodox Recipes
Fasting during Lent was more severe in ancient times than today. Socrates Scholasticus reports that in some places, all animal products were strictly forbidden, while others will permit fish, others permit fish and fowl, others prohibit fruit and eggs, and still others eat only bread. In some places, believers abstained from food for an entire day; others took only one meal each day, while others abstained from all food until 3 o'clock. In most places, however, the practice was to abstain from eating until the evening, when a small meal without vegetables or alcohol was eaten
During the early Middle Ages, meat, eggs and dairy products were generally forbidden
In current Western societies the practice is considerably relaxed, though in the Eastern Orthodox, Oriental Orthodox and Eastern Catholic Churches abstinence from all animal products including fish, eggs, fowl and milk sourced from animals (e.g. goats and cows as opposed to the milk of soy beans and coconuts) is still commonly practiced, meaning only vegetarian meals are consumed in many Eastern countries for the entire fifty-five days of their Lent. In the Roman Catholic Church it is traditional to abstain from meat from mammals and fowl on Ash Wednesday and every Friday for the duration of Lent, although dairy products are still permitted
Source : Wikipedia
"Greek Orthodox Lent is a time of fasting, which means abstaining from foods that contain animals with red blood (meats, poultry, game) and products from animals with red blood (milk, cheese, eggs, etc.), and fish and seafood with backbones ( ? ) "
Olive oil and wine are also restricted. The number of meals on each day is also limited.
Note: Vegetable margarine, shortening, and oils are allowed if they do not contain any dairy products and are not derived from olives.
and i share now with you several wonderful greek recipes :
For non Vegans : How to Know if a Recipe Meets Lenten Restrictions ?
When considering if a recipe meets the requirements, look for foods that have no meat, poultry, fish, dairy products, eggs, olive oil, and wine. Some favorites are adapted to meet Lenten restrictions by substituting vegetable oil for olive oil, and vegetable margarine for butter, and by using non-dairy products and egg substitutes.
and for everyone during Lent :
**Vegan Black Beans Spanakopita (Nistisimi)
http://kopiaste.org/2011/01/vegan-black-beans-spanakopita/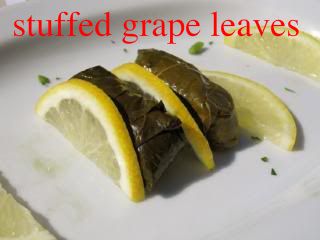 http://kopiaste.org/2008/04/koupepia-dolmadakia-gialantzi-with-potatoes/
http://foodandspice.blogspot.com/2007/08/quinoa-dolmadakia-stuffed-grape-leaves.html

**Tzatsiki Vegan Style
http://vegweb.com/index.php?topic=4687.0

**Lentil Soup :
http://kopiaste.org/2009/01/fakes-soupa-greek-lentil-soup/
**Black beans Spanakopta
http://kopiaste.org/2011/01/vegan-black-beans-spanakopita/
***LAGANA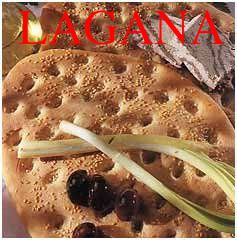 http://kalofagas.ca/2010/02/15/lagana-%CE%BB%CE%B1%CE%B3%CE%AC%CE%BD%CE%B1/
Very Very good recipes here :( my 2 favorites )
1*** SPANAKORIZO
http://kalofagas.ca/2009/05/14/spanakorizo-a-la-minute/
2***AMARANTH GREENS ♥
http://kalofagas.ca/2008/01/27/amaranth-greens-%CE%B2%CE%BB%CE%AE%CF%84%CE%B1/
*** MOUSSAKA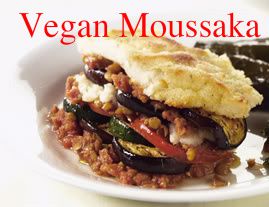 This Moussaka is a variation ( wit tofu scrambled ) of this recipe :
http://vegweb.com/index.php?topic=8765.0
***
http://www.peta.org/living/vegetarian-living/recipes/search.aspx?PETATags=Greek&PETAOrTags=0
And BEVERAGES:
http://www.peta.org/living/vegetarian-living/recipes/search.aspx?PETATags=Beverage&PETAOrTags=0
 ****
Greek Orthodox Great Lent Food & Traditions
http://greekfood.about.com/od/festivalsholidays/a/greatlent.htm
If you follow the tradition, do not use of course recipes with olive oil or olives:)