Just disgusting !juste : dégoutant ! An other woman ... NO FUR FOR ME!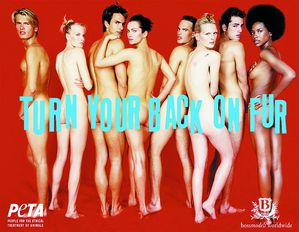 http://blog.peta.org/archives/2010/06/brooke_shields.php
from Peta :
When I was a little girl, I dreamed about growing up to be a rock star. http://blog.peta.org/archives/2010/05/joan_jett_nyc.php
Or maybe a veterinarian. Or a roller derby queen.
I didn't dream about anally electrocuting animals http://furisdead.com/chilling.asp
on fur farms, but apparently Brooke Shields did. The aging actor recently paid a visit (or should that be "was paid for a visit"?) to Kopenhagen Fur's workshop to create her very own mink coat, and she said it was "a little girl's dream."
We understand that when some actors' careers begin to fade, they'll do just about anything to stay in the limelight, including appearing in eyelash-growth commercials http://www.latisse.com/BrookeVideoDiary.aspx?state=41
and starring in short-lived TV shows. http://www.nbc.com/Lipstick_Jungle/index.shtml
But Brooke, did you really want the world to remember you as a "fur pimp" who stares agog at rows of animal skins?
Brooke says that she will wear her fur coat "when I follow my children to school, when I drink coffee, and when I sleep." Hmm, I think if you need fur to keep you warm at night, you've got problems.
http://www.environmentteam.com/2010/05/24/have-threesome-save-animal-peta-ad/
*******************What do you think? you can leave your comment here too/TY
SOURCE : Paula Moore for PETA
AND :
Brooke Shields visited Denmark in March to act out her 'little girl's dream': to design her own fur coat. The Hollywood star is thrilled with Kopenhagen Fur.
"Wearing fur may be associated with something grandmotherish. Something you wear when you visit the opera, or if you are a rock star and wears it inside out. But I will advocate that both my generation and the younger generation can wear fur", says Brooke Shields.
The comment fell as the American actress visited Kopenhagen Fur's creative workshop, Kopenhagen Studio early in March. Here she began designing her own mink coat made of the best Danish fur skins. Brooke Shields chose to work with the short-haired, black mink.
"Brooke Shields will be proud to be an exponent of the beautiful Danish fur skins in the U.S. She thinks that Kopenhagen Fur is very unique", says Kopenhagen Studio's Partnership & Alliance manager Natia Linneman and adds that the star has been intrigued by the way Kopenhagen Fur is organized and how the company centrally supports disease control and quality on fur farms etc.
Fur is a little girl's dream
"The gain for the Danish fur farmers is that well-established people are crazy about the product", says Natia Linneman.
The visit of Brooke Shields, who at the age of 15 became famous for her leading part in the movie The Blue Lagoon, was arranged in February during New York Fashion Week, where Kopenhagen Fur, in cooperation with the design house J. Mendel, had a major event in the city. J. Mendel also helps Brooke Shields to design her coat.
"I will wear the fur garment when I follow my children to school, when I drink coffee and when I sleep", says Brooke Shields, who calls it a little girl's dream to be able to design her own fur garment.
Tags: Brooke Shields, Kopenhagen Fur