International Women's Day (IWD) on March 8.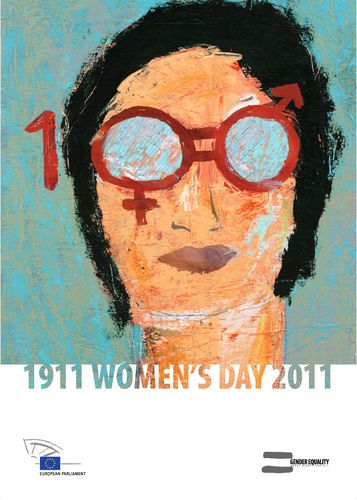 International Women's Day (IWD), originally called International Working Women's Day is marked on the 8 march
every year. It is a major day of global celebration of women. In different regions the focus of the celebrations ranges from general celebration of respect, appreciation and love towards women to a celebration for women's economic, political and social achievements
***2011 year marks the 100th anniversary of International Women's Day. The day was commemorated for the first time on 19 March 1911 in Austria, Denmark, Germany and Switzerland, following its establishment during the Socialist International meeting the prior year. More than one million women and men attended rallies on that first commemoration
http://en.wikipedia.org/wiki/International_Women's_Day
INFOS ::
http://www.internationalwomensday.com/default.asp
http://www.internationalwomensday.com/about.asp
http://www.un.org/womenwatch/feature/iwd/
http://www.oxfam.org/es/campaigns/dia-internacional-de-la-mujer-2011
http://portal.unesco.org/en/ev.php-URL_ID=48332&URL_DO=DO_TOPIC&URL_SECTION=201.html
http://www.who.int/topics/gender_based_violence/en/
http://online.thomsonreuters.com/womensday/
http://www.europarl.europa.eu/news/public/focus_page/014-114179-001-01-01-902-20110223FCS14178-01-01-2006-2006/default_en.htm
Organisations, governments and women's groups around the world choose different themes each year that reflect global and local gender issues.
THEME: So while many people may think there is one global theme each year, this is not always correct. It is completely up to each country and group as to what appropriate theme they select.
Below on the link , are some of the global United Nation themes used for International Women's Day to date:
http://www.internationalwomensday.com/theme/
Over the years, United Nations action for the advancement of women has taken four clear directions: promotion of legal measures; mobilization of public opinion and international action; training and research, including the compilation of gender desegregated statistics; and direct assistance to disadvantaged groups. Today a central organizing principle of the work of the United Nations is that no enduring solution to society's most threatening social, economic and political problems can be found without the full participation, and the full empowerment, of the world's women.
EVENTS : http://www.unwomen.org/news-events/international-womens-day/calendar-of-events/
***On March 8, men and women around the world will unite on bridges near them, calling for peace, in solidarity with women in Afghanistan and elsewhere who are marginalized in their country's peace processes.
and a petition to sign :
Here :http://www.saynotoviolence.org/takeaction/100th-international-women's-day-join-women-bridges
http://www.oxfam.org/en/video/2011/mamtaz-story-fight-climate-justice-bay-bengal
Here an old video but a good one :))
AND