I would like to share this : Born into Brothels
Prostitution in India : http://en.wikipedia.org/wiki/Prostitution_in_India
Born into Brothels: Calcutta's Red Light Kids is a 2004 American documentary film about the children of prostitutes in Sonagachi, Kolkata's red light district. The widely acclaimed film, written and directed by Zana Briski and Ross Kauffman, won a string of accolades including the Academy Award for Best Documentary Feature in 2004
Official site : http://kids-with-cameras.org/home/
Also : about Camera kids : http://www.imdb.com/title/tt0388789/
Zana Briski, a documentary photographer, went to Kolkata (Calcutta) to photograph prostitutes. While there, she befriended their children and offered to teach the children photography to reciprocate being allowed to photograph their mothers. The children were given cameras so they could learn photography and possibly improve their lives. Much of their work was used in the film, and the filmmakers recorded the classes as well as daily life in the red light district. The children's work was exhibited, and one boy was even sent to a photography conference in Amsterdam. Briski also recorded her efforts to place the children in boarding schools.
more here :http://en.wikipedia.org/wiki/Born_into_Brothels
Français : http://fr.wikipedia.org/wiki/Born_into_Brothels
Spanish : http://es.wikipedia.org/wiki/Los_Ni%C3%B1os_del_Barrio_Rojo
***
The photographs taken by the children in Born into Brothels are available for purchase in the Kids' Gallery, and as a signed limited-edition portfolio, or as a compilation in our companion book. 100% of proceeds from sales of the children's prints go directly to support their education and well-being.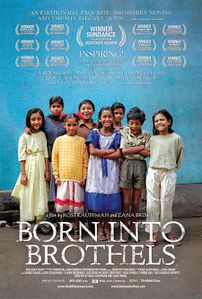 Support the kids here : http://kids-with-cameras.org/kidsgallery/
http://www.kids-with-cameras.org/bornintobrothels/dvd.php
About the kids : http://kids-with-cameras.org/aboutthekids/
***
OTHER KWC WORKSHOPS:
» THE KIDS OF cairo
» THE KIDS OF haiti
» THE KIDS OF jerusalem
http://humantrafficking.change.org/blog/view/12_million_child_prostitutes_in_india
http://wphr.org/2010/carol.blenda/india%E2%80%99s-child-prostitution-from-a-womans-respective/
and : Interview with filmmaker Beeban Kidron, plus exclusive clips from her new film. Sex, Death and the Gods explores the complex world of India's devadasi, girls devoted to a goddess and then sold for sex at puberty

here : http://www.guardian.co.uk/lifeandstyle/video/2011/jan/21/sex-death-gods-video
more :http://www.metafilter.com/99781/Dont-you-know-the-house-the-Love-Gods-marketplace-of-passions-the-dusk-where-the-dark-clears-and-yet-is-not-clear-Annamayya
http://en.wikipedia.org/wiki/Age_of_consent
http://en.wikipedia.org/wiki/Prostitution_in_India
Org : http://www.everychild.org.uk/devadasi?intcmp=239
on Facebook :
http://www.facebook.com/pages/Devadasi-Documentary-Sex-Death-and-the-Gods/162100280502468
***
*** Children's Rights
http://www.un.org/rights/dpi1765e.htm
Thank you for your attention
Isabella