HKG article ( english_français_videos ) : In one of the world's richest cities, thousands of Hong Kong's poor , elderly, neglected, junkies are living in cages.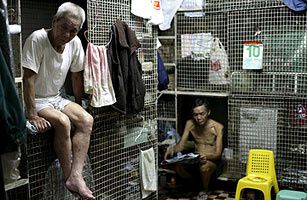 In one of the world's richest cities, thousands of Hong Kong's poor , elderly, neglected, junkies are living in cages.
videos :
http://www.youtube.com/watch?v=HU4jjdRzy3w
http://www.youtube.com/watch?v=nu2bdZGPMak&feature=related
http://edition.cnn.com/2009/WORLD/asiapcf/10/28/cage.homes/index.html
http://www.youtube.com/watch?v=9g4quQggu2k
source articles : : http://edition.cnn.com/2009/WORLD/asiapcf/10/28/cage.homes/index.html

The United Nations says cage homes are "unacceptable," calling them an "insult to human dignity.
Official government statistics show that there are 150,000 Hong Kong people living in cages, cubicles, rooftop huts, hallways benches, parks and streets.
In bureaucratic lingo this is called "inadequate housing."

The lower cubes are more expensive because you can just barely stand upright in them.

Do the math and the apartment owner is collecting roughly $2,500 a month (HK$19,375) from these people.

The 19 occupants share two toilets. A small rubber hose attached to a leaky faucet is what they use to wash themselves. Social workers who monitor the apartments said the electricity is donated, so a few of them have TVs. One person on the upper deck has an aquarium.

One social workers said that because of the recession these homes are being occupied more frequently by those made jobless — people in their 30s and 40s.

The social worker said none of the younger people wanted to speak on camera for fear their chances of finding work would be hurt.

Chung, 67, is now waiting for welfare to kick in and is on a long list for public housing.

The government says it is doing its best to meet its citizens' needs, but Chung says he has lost all hope.

Economic recovery or not, he feels forgotten.

from : http://chinadigitaltimes.net/china/cage-homes/

2_In the summer of 2009, the air was heavy. Only the creaking of the fan could be heard.

The sour stench of urine mixed with the smell of soaked sweat, filling the air of the 40 to 50 square meter rectangular room.

60-year-old Old Deng leaned against a wall, staring out into space. Just three floors below was a street in Hong Kong's Mong Kok area. Most here are old residences, neon lights, and a sea of sign boards. They bring back memories of scenes in Hong Kong cop and robber movies, where the good is mixed with the bad.

Inside the residence, against the wall, are 7 double-decked iron beds. In front of each bed is a wire lattice. It's almost like a metal cage. At the moment, two men were napping inside the "cages."

Old Deng coughed a few times, and spit. After, he turned and pulled the iron lattice, and then locked it. He had placed a shower gel and detergent inside the "cage," in the divider. His was the cleanest bed. Others were grimy, some with even small syringes inside.

Old Deng was rail thin and stooped. He slowly strolled out.

"Cage homes" have been a difficult social problem for Hong Kong's government for years.

They are legally known as bedspace apartments.

Most renters are the old and enfeebled, Hong Kong's unemployed, lone independents.

They have been called "cage people."

Those concerned about their livelihoods have strongly criticized government policies, and a legislative council member even moved an "iron cage" onto the street, in the hopes of attracting more attention.

Around ten people lived in Old Deng's place, packed like sardines.

Once, after a fire, the government required that two-levels be constructed.

Currently, most have already lived here for twenty to thirty years.

"Before, one bed would be 200 kuai in rent per month," Old Deng said. Every two months, the price would go up, increasing by twenty percent.

Now, each month's rent costs about 1200 Hong Kong dollars.

Most "cage people" depend on government payouts. Comprehensive Social Security Assistance totals 2200 Hong Kong dollars; unemployment payment is 1830 HKD.

Aside from this, there is also charity aid. Every weekday, a charitable organization provides him with dinner. They have already gotten used to this sort of life.

Hong Kong's government departments do not simply remove the bedspace apartments.

They go through legislative channels to ensure that they meet standards for fire control, hygiene, and building safety.

In 1994, Hong Kong published the "Bedspace Apartments Ordinance" in order to improve and reduce the number of "cage homes."

According to records at Hong Kong's Home Affairs Bureau, there were 30 licensed bedspace apartments and 910 beds.

Last year, that number has already decreased to 21 apartments and 775 beds.

"Cage homes aren't part of the Hong Kong government's relief program. We're only hear to check sanitation, to see if fire control meets standards," explained the information officer for the Home Affairs Bureau.

The rent for Old Deng's place should normally be 6000-7000 HKD (sic) per month.

The landlord hardly ever shows up, and has hired a representative to collect the rent. All of the "cage people" told us: "Don't take pictures, or else the landlord will get upset."

After Old Deng left, the residence felt incredibly lonely. 80-year-old Luo Sheng sat by the doorway, complaining about his "bleak [situation]," and how he was lucky to have an older brother in Macau who would send him money whenever he came up a little short.

"I'm old already. One or two of us are renting a place together, and if something happens, no one will know. [But] these are my brothers in the 'cage'; we look after one another," said the elderly man. But onlookers might say there isn't much of a brotherhood to speak among the 'cage people.' Bickering and fighting often erupt, and sometimes a person would get slapped in the face over eating someone else's bowl of food.

Not long ago, due to narcotic use and drug concealment, one of the 'cage people' was taken away by police. About a half month later, he came back to the cage home.

In the dark of the night, these 'cage people' look like statues as they sit idly. The only sound is the creaking of the fan, and the television's news report announcement.

3_AFP :

HONG KONG (AFP) - Kong's fellow tenant, 78-year-old Tai Yum-po, has made better use of his space: he hooks his towel, jackets, pot noodles, bags of washing powder and toothpicks to his bed.

Hidden behind the high-rise office blocks and glitzy shopping malls of Hong Kong, a huge number of ordinary people have been left behind by the economic boom since the city returned to Chinese rule a decade ago.

As as international financial hub it boasts some of Asia's richest people and more Louis Vuitton shops than Paris or New York.

Yet out of its seven million residents, an estimated 1.25 million -- people like Kong and Tai -- live below the poverty line.

They share a room with nine other men in one of Hong Kong's notorious "cage dwellings" -- small, dingy flats that have been further subdivided into cages where there is no room for anything other than a bed.

For these men, home is four walls of rusty steel wire mesh with a sliding door at one end that allows them to slide in and out.

"I tried to find work for years, but I'm getting old and no one would hire me. So I gave up," said Kong, a thin, 61-year-old father of two grown-up sons with whom he has lost contact.


Kong Siu-kan reads the paper in a "cage home"
© AFP Mike Clarke

"I couldn't have imagined I would have ended like this but I don't feel too bad about this any more," he said.

Official figures show a growing chasm between the rich and poor: one in 15 households in 2006 had a monthly total income of 770 US dollars or less (6,000 Hong Kong dollars), four percent more than a decade ago.

Those earning 3,850 US dollars or more a month have risen two percent.

Cage dwellings are just one example of worsening poverty in this southern Chinese territory, where only 35 percent of the 3.4 million working population pays income tax and the top 100,000 earners contribute 60 percent of salaries tax.

Built in the 1940s to accommodate a wave of Chinese refugees fleeing the civil war on the mainland, about 100 cage homes remain, housing some of Hong Kong's poorest and most downtrodden.

Economically, Hong Kong has had a rough ride of the past 10 years since the end of the colonial era.

It was plunged into turmoil by the Asian financial crisis of 1997 -- which sparked a seven-year recession -- as well as the fallout of the September 11, 2001 terror attacks in the United States, avian flu and an outbreak of Severe Acute Respiratory Syndrome (SARS).


Kong Siu-kan rests outside his "cage home"
© AFP Mike Clarke

At its nadir, in early 2003 when SARS plunged the city into psychological and economic depression, home values had fallen 70 percent and gross domestic product slumped to 3.3 percent.

Although the economy has made a full recovery, figures show the number of people on low-paid jobs has risen sharply, as has the number working more than 55 hours a week.

Ho Hei-wah, director of the Society for Community Organisation, a rights group, said wages that were cut during the economic slump have not returned to pre-1997 levels partly because more jobs have been lost to mainland China.

"One big problem is, even if people have jobs, their salary is very low. We call them working poor," he said.

Closer integration with China has meant more Hong Kong companies have moved to the mainland to tap into its breakneck growth and cheap labour, leaving the city with fewer jobs and workers forced to accept lower wages to get them.

Low Usick-kan, a scaffold worker of 40 years, said fewer jobs and low pay had forced workers to seek employment in the neighbouring booming casino haven of Macau, where the monthly allowance just for housing and transport is higher than a Hong Kong wage.

Wong Hung, an assistant professor at the social work department of Chinese University, said the absence of a minimum wage policy was also to blame.

"Jobs are getting fewer and fewer but we have more workers with no minimum wage protection. I can only expect the trend of lower income to continue," he said.

Mr Leung, a Chinese mainland immigrant who did not want to give his first name, works 12 hours a day six days a week as a security guard for 6,000 Hong Kong dollars a month.

His wife brings in an extra 4,000 dollars by working in a restaurant, but they have barely enough to provide for their family of two teenagers.

The outcome: the four are among 130,000 people who live in what is termed "inadequate housing."

The Leungs live in a cubicle big enough for a bunk bed, a small fridge, a desk and a fold-up table. It has no windows: for ventilation they rely on the draught from holes above the walls.

It is one of 13 sub-units in a dimly-lit, 50-year-old building with flaky walls, wet broken concrete floor in the communal kitchen, a toilet without a seat and another floor with broken tiles.

The blackened ceiling and walls show the age of the building.

"Hong Kong is so great, isn't it," Leung said sarcastically as he sweated on the bunk bed with three fans on full power.

Leung said the room gets so hot he sometimes sleeps on the tiny area left in the cubicle; the children are forced to study on the bunk bed.

Life might seem more comfortable for Yuen Chi-ming, a cleaner at a swanky air-conditioned office block and who lives in a government-subsidised complex, but he only gets 4,800 dollars a month for working 10 hours a day.

"The rich get richer; the poor get poorer. That's a fact," he said.

"There's nothing we can do. You may get rich by winning the lottery, but that's only a dream. A lot of people dream about it but it would never come true."

http://www.time.com/time/world/article/0,8599,1917897,00.html

or here :

***It seems to me that no one knows any charity organisations in Hong Kong that can help the cage dwellers as "The poor have no right to vote," "the privileged and the government don't need to listen to the voices of the poor."

----------------------

FRANCAIS :

REUTERS/
A Hongkong, une des centaines de salles-dortoirs qui abritent une demi-douzaine de lits superposés et grillagés.

Loyer : 150 euros par mois.

L'anniversaire de la rétrocession de Hongkong à la Chine, le 1er juillet 1997, est devenu l'occasion officielle, depuis 2003, de manifester son mécontentement au gouvernement de la région administrative spéciale de Hongkong.

Ce jour-là, Paul Pak, la cinquantaine, quitte la "cage" dans laquelle il vit à Tsim Sha Tsui et rejoint la marche qui traverse le centre de Hongkong, sous la bannière de l'ONG Soco, qui se bat inlassablement pour la cause des pauvres, des nouveaux migrants, des mal-logés. "Trop chaud, pas d'air conditionné, trop sale et trop cher.

Beaucoup de puces et d'insectes qui vous mordent", résume-t-il à propos de son logement où, ajoute un autre : "Donald Tsang (le chef de l'exécutif hongkongais) ne tiendrait pas cinq minutes."

La pérennité des maisons-cages de Hongkong dans un territoire où le PNB par habitant est supérieur à celui de la Suisse reste, pour certains une énigme, pour d'autres un scandale...

L'entrée est sale et exiguë, comme dans tous les immeubles de ce quartier populaire.

Vieille porte en ferraille, peinte et repeinte, cachée dans le mur décrépi, entre un chariot de vente ambulante de brochettes et un présentoir de DVD qui ont cannibalisé le trottoir.

Le mur est tapissé de boîtes aux lettres métalliques déglinguées et de compteurs électriques camouflés par des années de poussière. Au-dessus de tout cela, quelques caractères chinois, peints en rouge à même le mur, proposent des "logements à louer" au septième étage. Sept étages donc, de marches usées, inégales.

Au fond d'un long couloir, une salle-dortoir accueille une demi-douzaine de lits superposés, grillagés sur l'extérieur, avec une petite porte-fenêtre sur la "façade" du lit-maison.

Le grillage protège contre le vol, et permet d'accrocher des cintres et des sacs plastique, autant de rangements pratiques et nécessaires quand on vit dans moins de deux mètres carrés...

Derrière un pan de tissu, Yau Kwei Neng se repose. En guise de présentation, il tend sa carte d'identité. Il est né le 19 décembre 1941, a quitté la Chine continentale pour travailler sur des chantiers à Hongkong jusqu'à ce qu'un cancer l'empêche de continuer.

Il a finalement toujours vécu ici, sans jamais réunir assez d'argent pour faire venir sa femme et ses deux enfants, laissés à moins de cent kilomètres, mais qu'il n'a jamais revus. Rentrer en Chine ? Peut-être. "Quand (il sera) vieux."

Chaque matin, à 5 heures, il descend dans la rue prendre un bol de thé et des raviolis vapeur. Il s'occupe lui-même de son dîner : il y a un réchaud sur la terrasse du toit. Et le défi quotidien, c'est ce long moment entre les raviolis vapeur du matin et le dîner du soir.

L'allocation de 2 000 dollars de Hongkong (200 euros) par mois que donne le gouvernement aux personnes âgées ne lui permet pas de manger trois repas par jour, une fois payé son "loyer" (1 500 dollars de Hongkong, 150 euros).

A propos de ses conditions de vie humiliantes, qu'il a toujours crues provisoires, il affirme que la promiscuité qu'impose ce type de logement n'est "pas naturelle".

Il y a eu des disputes dans le passé. Un homme a failli se faire tuer

. Mais, aujourd'hui, tout le monde est "ami". L'état des toilettes (un trou dans une minuscule pièce sans lumière) n'est "pas bien", dit-il sobrement, en ajoutant s'y être "habitué". Yau Kwei Neng s'occupe en recopiant des caractères chinois dont il a oublié la signification sur les pages d'un cahier, qu'il efface quand elles sont pleines.

Le bruit de la rue ? Cela ne le dérange pas, il est un peu dur d'oreille. Son souci, hormis les puces, c'est qu'en 2008 le sac de riz est passé de 30 à 50 dollars.

Dans un lit du bas, catégorie la plus prisée, car on peut ranger ses affaires en dessous, un autre occupant brave l'obscurité du lieu en tentant de lire "de la philosophie et de l'histoire", à travers d'épaisses lunettes. Il voudrait en ... sur le président français, qui l'intrigue.

Arrive Wu So chiu, ancienne occupante, qui était la seule femme du dortoir et qui revient dîner ou faire une partie de cartes avec ses compagnons d'infortune. Elle a obtenu un logement plus décent à présent, mais elle s'ennuie parfois toute seule...

Les maisons-cages sont apparues dans les années 1950 comme mode de logement provisoire pour la main-d'oeuvre immigrée. Ho Hei Wah, le directeur de l'ONG Soco, a présenté un dossier aux Nations unies.

Le Conseil économique et social des Nations unies (CESCR) a, à maintes reprises, estimé que "les maisons-cages sont un affront à la dignité humaine" et jugé "inacceptable l'inaction du gouvernement de Hongkong en dépit des ressources financières abondantes à sa disposition".

La disparité des niveaux de vie s'aggrave d'année en année à Hongkong.

Le rattachement à la Chine n'y a rien changé.

Les acteurs sociaux s'accordent à dire que seul l'avènement d'une "vraie" démocratie pourrait s'attaquer à ce problème. Sous le mandat de Tung Chee Hwa, chef de l'exécutif de 1997 à 2005, une politique du logement claire s'était pourtant amorcée : 50 000 logements sociaux par an, entre 1997 et 2004. Mais ces initiatives sociales ont effrayé les Hongkongais propriétaires, dont la richesse principale est souvent leur logement.

C'est donc sous la pression populaire que le gouvernement a cessé d'aider les pauvres, pour éviter d'appauvrir les riches... "Beaucoup de gens pensent désormais inutile de faire la demande d'un logement social. Certains ont vu indiqué sur le reçu de leur dossier :

"Vingt ans d'attente". Alors à quoi bon ?", indique Ho.

D'après les chiffres officiels, il n'y aurait plus que trente maisons-cages dans Hongkong.

Le gouvernement y contrôle le niveau d'hygiène et les précautions anti-incendie. Mais on joue sur les mots, car le gouvernement a défini les maisons-cages à partir de douze locataires par pièce, et les tenanciers ont vite compris les avantages de renoncer au douzième client.

"Cette mesure a fait empirer la situation, car si un tenancier réduit son nombre de locataires comme le recommande le gouvernement, il n'est plus soumis aux contrôles associés aux maisons-cages", nous explique Soco.

Les occupants, ici, sont plutôt des "nouveaux migrants", arrivés de la Chine continentale depuis quelques années, et qui croient à leur tour à l'eldorado hongkongais. Officiellement, plus de 100 000 personnes sont ainsi "mal logées".

article de Florence de Changy

video en français ici : http://www.chine-informations.com/video/chine-les-maisons-cage-a-hong-kong_736.html
Le monde est impitoyable !