Help to end suffering of bulls in Nimes:English_Français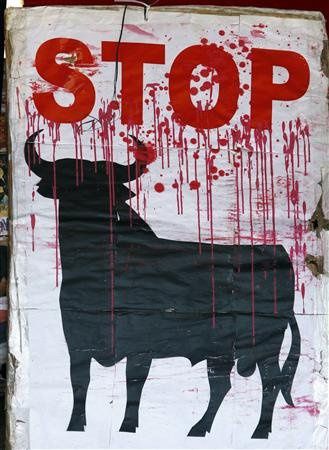 CONTRE LA CORRIDA :: Action à prendre et à partager :
Site En Anglais, Espagnol, Français :qui explique particulièrement bien ce qui se passe à Nimes et dans les autres villes françaises, au sujet de la Corrida :
Nimes : Anti Corrida March 2010 :http://www.allianceanticorrida.fr/manif.html
Pour plus d'informations merci de rejoindre le site ici :
http://www.allianceanticorrida.fr/combat.html
Maintenant, Nimes à toujours besoin de nous contre cette BARBARIE
Merci de signer cete pétition de The League Against Cruel Sports voir le lien plus bas , merci.
The League Against Cruel Sports seeks a complete end to bullfighting anywhere in the world.

Tens of thousands of bulls are maimed, tortured and killed for 'entertainment' each year in Spain, Portugal, France, Columbia, Mexico, Venezuela, Peru, Guatemala and more recently, the USA.

During a bullfight, the animal is attacked by men on foot and on horseback with lances and harpoons. The matador forces the confused and exhausted bull to make a few charges and eventually he attempts to kill him with a sword. If not killed, the animal is stabbed repeatedly until paralysed. When the bull finally collapses, the spinal cord is cut, but the animal may still be conscious as his ears and tail are cut off and kept as a trophy.
http://www.league.org.uk/content.aspx?CategoryID=312
:http://www.league.org.uk/content.aspx?CategoryID=303
* le descriptif de la pétition anglais ::
The Ferias of Nîmes are held twice a year and take place over five days. The Pentecost Feria is one of Europe's most popular events, attracting nearly a million visitors.

These festivals historically centre around bullfighting (the corrida) and are held in celebration of the bull and its fighting spirit. The corrida involves various stages of weakening, angering, injuring and finally killing the bull. Bullfights are held throughout the week and parties held every night. Paradoxically, cruelty to animals is banned in France – punishable by up to two years in prison and fines of €30,000 – however, corridas and cockfighting are permitted where there has been an 'unbroken tradition of the activity taking place'.


The League and its partner organisations across Europe think the cruelty involved during the Ferias of Nimes is totally unacceptable and believe that there is no place for ritualised slaughter in the 21st century.

Please enter your details onto the form below if you would like to add your name to the huge number of people who are calling on the people of Nîmes to end the inclusion of the corrida to the annual Ferias.

*Please note:
The names and addresses of all those who have signed this petition electronically will be printed and sent to our partner organisations in Europe to be handed to the Mayor of Nîmes in July 2011.
The League and its partner organisations across Europe are working together to gather signatures for a petition calling for an end to bullfighting in the French city of Nimes. Please help by downloading our petition and getting your friends to sign. You can also sign online.
more about CORRIDA :http://www.iwab.org/ongoingcampaignsfre.html