Help needed for Alice, the dog in the box!!PLS read and take action!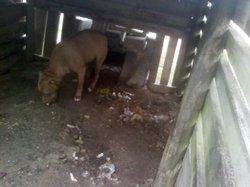 The dog in the box has come to be known as Alice - her life, if you can even call it that - rather, her existence, has been one of complete misery for the past six years.
Alice's situation was brought to the attention of rescuers at the end of January. What those individuals discovered left them shaking in horror and disbelief.
Alice, a female Pit bull, had been living in what can only be described as a deplorable prison. Her "home" was a 5'x8' box, constructed of wooden boards and tin.
The only sunlight that Alice could receive came from small, filtered slivers that could shine through the slats or the chicken wire that encased the box from above.
Her food (more on that later) was dropped in from above, as was her water. The floor of her "home" was caked with years of feces and urine.
The rescuers located the owner of the home - he told the rescuers that the dog was kept in this box because she was one of "those mean kind of dogs" - in other words, a Pit bull.
http://www.change.org/petitions/help-needed-for-dog-in-the-box
On Saturday January 29, 2011, an animal advocate was in an area working on rescuing a stray dog from the road when she found the dog whom we now know as Alice. Alice is a bully breed who has been living in a "box" for the past SIX YEARS. There was a wooden box, approx. 5'WX8'LX 4'tall. It was constructed of mostly wooden slats, with maybe an inch gap between some of the boards, and sheets of tin. The top was covered mostly by various sizes of tin and metal sheet, with a small section having field (chicken) wire over it. The door was made of metal/tin and was chained and locked when they first arrived.
After talking for a while, "Ben" told them that the dog belonged to his son-in-law, who had brought the dog out there to live because "it's a very mean dog". In fact, we were told, that if the dog was running loose while we were there, she most likely would have bitten us. She was, by this man's account, "one of them very mean dogs" (meaning, Bulldog) and that's why he had her in the "kennel" he had built.
They offered to bring the man some dog food and asked if they could get him a chain linked kennel for the dog. While they were all talking, one of the rescuer's mom happened to drive past. The mother just so happen to have some dry dog food with her and offered some to them to give to Ben. They asked if they could feed the dog for him, and he allowed them to do so. When they showed Ben what was inside the bag she had, Ben's words were "I ain't never gave that dog no pellets before". They asked what he fed her and Ben said mostly bread, an occasional honey bun and a few scraps. This dog had never had real dog food in her life. It was then that they asked how long he had had the dog, and Ben told them "about 6 years, since she was a pup". We were flabbergasted! This girl, who Ben also told us he had never even named, had been living this way for nearly 6 years!!! Six years living on basically bread and water, no vaccines, no vet care of any sort.
When they went to pull the food bowl, an inch thick rectangular cake pan, from inside the kennel, they had to pry it loose from the sludge that encased it. The pan was filled with dog feces and dirt from inside the shelter. They cleaned it best they could and filled it with dog food. When this dog saw it, she immediately started eating! But, she didn't finish all the food, apparently never having a full and proper portion of food to eat. They asked if they could also freshen her water, and that's when Ben told us that the rope tied to the 5 gal bucket (see the picture) was there so "when she turned it over, I can get it back up". Apparently, Ben would not ever go into the shelter due to being afraid of the dog, after all, she was "very mean". Ben did open the door for them to get the bucket out, and they cautiously reached inside to get the bucket, not knowing if they were about to get bitten or attacked by this "very mean" dog. They got the bucket out without incident and went to clean the inch thick layer of dirt from the bottom of it and the layer of algae from off the inside walls of it. When they returned with fresh, clean water, the other rescuer was gently rubbing the dog's ears through the slats! This "very mean" dog was leaning on the inside walls, allowing a eprson to love on her!!! They was even allowed, by the dog, to rub and pet her. This dog was so open to human contact, something she apparently had experienced very little of over the years. They never saw any aggression from this beautiful dog. More pictures are attached to this link, courtesy of Southen Comfort Rescue
http://s1099.photobucket.com/albums/g391/AnimalAdvocate_Nina/Alice/
*** PLS SIGN : http://www.change.org/petitions/save-alice-aka-the-dog-in-the-box
http://www.change.org/petitions/save-alice-aka-the-dog-in-the-box
and read the all story
I share :
http://www.examiner.com/dogs-in-national/help-needed-for-dog-the-box-georgia
all text here :