For a Vegan Passover + Recipes
Passover in 2011 will start on Tuesday, the 19th of April and will continue for 7 days until Monday, the 25th of April.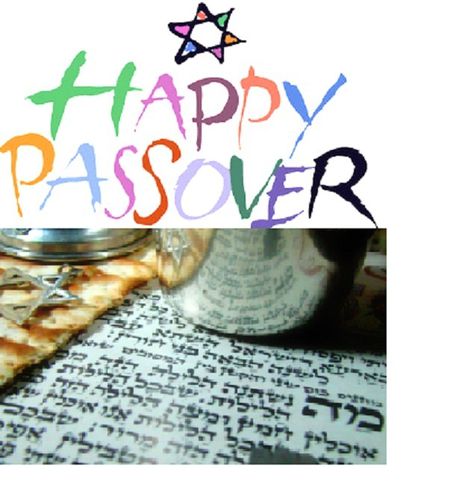 *** PASSOVER :
http://en.wikipedia.org/wiki/Passover
http://fr.wikipedia.org/wiki/P%C3%A2que_juive
Passover—the universal story of dignity, hope, and freedom—teaches that all suffering matters to God. And that means, of course, that it should matter to us as well. It is odd to celebrate freedom if we still dine on the flesh of animals who spend their lives caged in cement stalls no bigger than their own bodies, never able to look up at the sky or feel grass beneath their feet. The very premises that lead many to conclude that it is permissible to eat meat—that animals have no merit beyond how they might taste and that animal suffering is of no consequence—are antithetical to the humanity and compassion of Judaism.
Refusing to have a hand in that suffering is especially timely at Passover, for in commemorating the escape of the Jews from Egyptian bondage, the holiday reminds us of the importance of continuing the battle for freedom. Prayers said on Passover call on us to be kind to those who are now oppressed and to deepen our commitment to liberty today. What better time than Passover to extend our compassion to every living being? And what better way to celebrate the spirit of the holiday than by practicing vegetarianism?
More here
http://www.peta.org/features/celebrate-a-compassionate-vegan-passover.aspx
CONTEMPORARY JEWISH THOUGHT
When Kosher Isn't Kosher

Aaron Gross:
Rarely have the traditional Jewish dietary laws ever attracted the international attention that they
recently received in the wake of an undercover investigation by People for the Ethical Treatment
of Animals (PETA).
On November 30, PETA released undercover video footage of grisly animal abuse at
AgriProcessors, Inc. (Postville, IA), the largest glatt kosher slaughterhouse in the world. The video documented fully conscious cattle having their tracheas and esophagi ripped from their throats, their sensitive faces shocked with electric prods, and languishing for up to three minutes after their
throats had been slit.

Whether we choose veganism, vegetarianism or not, it is time we confront our own forgetfulness about the suffering of animals, and, equally, our forgetfulness about the moral intent of kosher law.

Continued silence about the fate of the animals we eat is not just silence, but denial.

The voices calling for compassion in how we treat farm animals are stronger.

Now than at anytime in recent memory; they testify to a process of remembering a venerable tradition of reverence for life which continues to animate Jews today.

Let us work to make these remembrances into a concrete, living tradition of day-to-day concern for all life. Let the image of the divine that we represent, be a vision of compassion. □

http://www.goveg.com/pdfs/kosher.pdf

xxx

FOR PASSOVER:

Invite your friends and family over to enjoy a delicious vegan Passover dinner—hopefully they'll start a new tradition in their own homes too!

RECIPES :)

Aunt Charlotte's Carrot Tzimmes

For the carrots:

1 lb. baby carrots or chopped or sliced large carrots
1/4 cup sugar

For the pudding:

1/2 cup matzo cake meal
1/8 tsp. pepper
1 tsp. paprika
1/4 tsp. salt, heaping
1 tsp. sugar
1 small onion, grated
1/4 cup oil
1/2 cup water

Put the carrots in a small, oven-safe Dutch oven or casserole dish. Sprinkle 1/4 cup sugar over the carrots, cover, and set aside for 3 to 4 hours on the counter or in the fridge overnight.
Heat the covered dish on the stovetop over low heat for 15 minutes, until the carrots are slightly soft and there is some liquid in the bottom of the dish.
While the carrots are cooking, mix the dry ingredients for the pudding in a separate bowl. Add the onion, oil, and water and mix well. Spread the pudding on top of the carrots, cover, and cook on the stovetop over medium-low heat, until the pudding sets.
Bake, covered, at 350 °F, until the pudding becomes brown around the edges, approximately 45 minutes to 1 hour.
Makes 5 servings

Apple and Date Mousse

1 1/2 lbs. apples, cored and diced
1-1 1/2 Tbsp. lemon juice
1 tsp. lemon zest
3 Tbsp. maple syrup
1/2 lb. fresh dates, pitted
1 tsp. sesame seeds
Lemon balm, mint, or lemon geranium leaves, to garnish

Cook the apples with the lemon juice, zest, and maple syrup until the fruit is soft. Add a little water if the mixture becomes dry. Let cool.
In a blender, blend the dates and apples together until they are light and fluffy. Stir in the sesame seeds.
Spoon the mousse into 4 dessert glasses and chill. Garnish with fresh lemon balm, mint, or lemon geranium leaves.
Makes 4 servings

Chopped 'Liver' Spread

Source: No Cholesterol Passover Recipes by Debra Wasserman and Charles Stahler provided by Vegetarian Resource Group (VRG.org)

1/2 lb. mushrooms, chopped
1 small onion, chopped
3 Tbsp. oil
1 cup chopped walnuts
Salt and pepper, to taste
1 Tbsp. water

Sauté the mushrooms and onion in the oil for 8 minutes. Pour into a blender or food processor, adding walnuts, seasonings, and water. Blend until smooth. Serve on matzo as a spread.
Makes 1 cup

Sweet Potato Kugel

Source: No Cholesterol Passover Recipes by Debra Wasserman and Charles Stahler provided by Vegetarian Resource Group (VRG.org)

6 small sweet potatoes, peeled and grated
3 apples, peeled and grated
1 cup raisins
1 cup matzo meal
2 tsp. cinnamon
1 cup walnuts, chopped (optional)
1 cup fruit juice or water

Mix all the ingredients together. Press into a baking dish and bake at 375 °F for 45 minutes, until crisp on top.
Makes 12 servings

Eggplant Casserole

Source: No Cholesterol Passover Recipes by Debra Wasserman and Charles Stahler provided by Vegetarian Resource Group (VRG.org)

1 large onion, chopped
3 Tbsp. oil (or a mixture of oil and water to reduce fat)
1 medium eggplant, peeled and cubed
1/4 cup diced green pepper
11 oz. tomato-mushroom sauce
1 tsp. salt
1/2 tsp. pepper
2 large tomatoes, diced
1 1/2 cups matzo farfel

Sauté the onions in oil until tender. Combine onions, eggplant, green pepper, tomato-mushroom sauce, and seasoning. Cook, covered, for 15 minutes or until eggplant is tender. Stir in tomatoes. In a 2-quart baking dish, arrange in alternate layers the vegetables and matzo farfel. Begin and end with the vegetables.
Bake at 350 °F (uncovered) for 25 minutes.
Makes 6 to 8 servings

Baked Stuffed Zucchini

Source: Zahava Koren at http://euler.ecs.umass.edu/pass-veg/#Zucchini

2 zucchinis, cut in half lengthwise
1 small onion, finely chopped
4 Tbsp. tomato sauce
1/2 tsp. parsley
1 clove garlic, chopped
2 Tbsp. matzo meal

Scoop out the pulp of the zucchini halves. Heat the pulp, onion, tomato sauce, parsley, and garlic in a pan for 5 minutes. Add the matzo meal to the mixture and mix well.
Restuff the zucchini with the mixture. Place in a baking dish with a little water on the bottom.
Bake at 450 °F for 30 minutes until the zucchini shells are soft.
Makes 4 to 6 servings

Beet Casserole

4 cups peeled and sliced fresh beets
1 Tbsp. sugar
3/4 tsp. salt
1/4 tsp. paprika
1 Tbsp. margarine
1 Tbsp. lemon juice
Sliver of fresh ginger
1/3 cup water
1 Tbsp. grated onion

Preheat the oven to 400 °F. Layer the sliced beets in a lightly oiled 7-inch baking dish and sprinkle with the sugar, salt, and paprika.
Dot the beets with the margarine, then add the lemon juice, ginger, water, and onion. Cover and bake for 30 minutes, or until tender.
Remove from the oven once during baking and stir well.
Makes 6 to 8 servings

Traditional Charoset

1-2 Macintosh apples, peeled and cored
1 cup walnuts, shelled
Kosher wine
Cinnamon, to taste
Sugar, to taste

Mince the apples and the walnuts or pulse in a food processor. Moisten with the kosher wine and season with cinnamon and sugar to taste.
Makes 20 to 25 servings
More RECIPES here :

http://www.peta.org/features/vegan-passover-recipes.aspx

http://www.vegcooking.com/passover/