FOIE GRAS info and faux foie gras recipe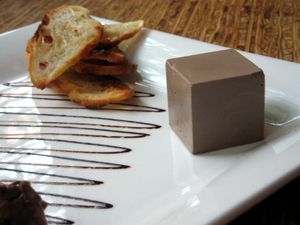 FOIE GRAS :http://www.peta.org/FeatureKateWinsletExposesFoieGrasCruelty.asp
which is French for "fatty liver," is made from the enlarged livers of male ducks and geese.
Many high-end restaurants have pulled this "delicacy of despair" off their menus for good.
But just because gourmets choose to skip out on the cruelty :
http://www.goveg.com/feat/foie/index.html
doesn't mean that they want to miss out on traditional French food
A judging panel chosen by PETA assessed the prepared recipes based on palatability as well as similarity in taste and texture to real foie gras, and they selected New York–based chef Amanda Cohen as the winner.
Here the recipe :
Mushroom Mousse
1/4 cup finely diced white onions
1/2 cup vegan margarine
1/2 cup unflavored soy milk
1 Tbsp. agar-agar
3 cups de-gilled and chopped portobello mushrooms
1/8 tsp. truffle oil
1/4 tsp. salt
• Cook the onions and 1 tablespoonful of vegan margarine on low for 15 minutes or until extremely soft.
• Add the soy milk and leave on low for 10 minutes, or until it comes to a boil.
• Add the rest of the vegan margarine (7 tablespoonfuls) to the pot and leave on low for 15 minutes, or until it comes to a boil
• Add the agar-agar and whisk until it comes to a boil again (approximately 10 minutes).
• Remove from the heat and pour into a Vitamix or other high-powered blender and blend until very smooth and creamy.
• Add the mushrooms, truffle oil, and salt and blend for 2 to 3 minutes, or until creamy and fully incorporated. If the mixture is not silky smooth, pass through a fine mesh sieve or a chinois.
• Pour into a nonstick silicon cube mold and tap the mold a few times to ensure that the mousse has settled. Pour excess mousse over the top of the cube mold to make sure that there is no air trapped in any of the compartments and scrape the top to make sure that all the compartments are filled.
• Refrigerate for at least two hours, or until solid.
Note: These directions are for preparation on an induction burner set between 1 and 2; if using a gas burner, set the flame as low as possible and keep an eye on the ingredients, as cooking times will likely be much shorter.
♥Serving Suggestion: Spread the portobello mousse on truffled toast made from baguette slices. Place thinly sliced, grilled portobellos on top to give it more texture, and add peach and fennel compote for sweetness, if desired.
*Makes approximately 9 servings