DOG FIGHTING Campaign & Where to report/What to do_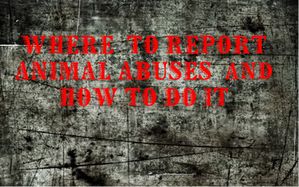 Pls read here what to do also and WHAT YOU MUST NOT DO :
http://isabella-vegan-page2.over-blog.com/article-where-to-report-animal-abuses-and-crush-videos_p2_-68626867.html
The League http://www.league.org.uk/
has launched a campaign to highlight the problem of dogs being used for fighting with other animals.

This includes 'traditional' dog fighting but also goes much further.
We're talking about badger baiting, where a dog is set onto a badger, almost always resulting in the death of the badger and often causing horrific injuries to the dogs involved. We're also concerned about the apparent rise in urban dog fighting, where people are using dogs to fight foxes and other dogs.

We have campaigned against 'terrier work' for many years, and through this campaign we'll step up the pressure.
'Terrier work' is where a terrier dog is sent into a fox earth or another form of fox habitat to get the fox to bolt so that it can be hunted.
We see this as little more than a dog on fox fight, and we have lots of evidence that shows the horrific cruelty involved.

Fighting Dogs Crimewatch
Throughout 2010 and beyond, we will continue to lobby the relevant authorities for better enforcement of the Hunting Act. Our confidential Fighting Dogs Crimewatch telephone service (01483 524 250) enables members of the public to report suspicious incidents that they think might be related to fighting dogs.


Fighting Dogs Conference
At our Fighting Dogs Conference on 2nd July, we published a Briefing Paper titled The Fight Is On. The Conference also saw the launch of the League's latest campaign film.




To coincide with the campaign launch in April, the League released a video. Watch it now>>>

In July 2010, the League's Annual Lecture was delivered by Dr Kelly Daley, who conducted research for the University of Chicago and the Humane Society of America on The Causes of Urban Dogfighting. You can watch the lecture below.


What is Dog Fighting
2010 marks the 175th anniversary of the legislation which banned dog fighting and badger baiting, but sadly it still goes on in some of our towns and cities.

And more worryingly, we're becoming increasingly aware of a new phenomenon: urban dog fighting where people are setting their dogs onto urban foxes.

This new campaign for the League also includes work to challenge the disgusting practice of 'terrier work', the dark side of hunting where terrier dogs are pitched against foxes in underground battles.

Dog fighting: banned in 1835 dog fighting sadly goes on in some of our towns and cities. Enforcement agencies report a 400% increase in dogfighting cases in recent years, with large increases in specific communities in the UK.

Badger baiting: also illegal since 1835, badger baiter set their dogs onto badgers to fight until the badger is killed. These usually gentle creatures will fight hard and can cause horrific injuries to the dogs.

Terrier work: this campaign tackles 'terrier work', where terrier type dogs are pitched against foxes in underground battles. 'Terrier men', most commonly associated with fox hunting, send their terriers into fox earths to try and force the fox to escape its home so that it can be killed. Often terriers fight with the fox underground, causing horrific injuries to the fox and the dog.

Urban fox hunting/fighting: This is a newer phenomenon: thugs set dogs onto urban foxes for a straight kill or to catch them for an organised fight. Sometimes they tie them to tress and then set ferocious bull terrier type dogs onto the fox. Either way the fox suffers massive suffering and stress before dying. But he won't give up without a fight and the dog will suffer injuries too.

In the inner cities, thugs are catching urban foxes, tying them to trees and then setting ferocious bull terrier type dogs onto the fox, causing massive suffering and stress before the fox is killed. But the fox won't give up without a fight and the dog will suffer injuries too.
What can i Do?
You can support the League in a number of ways.
Please register your support and we will keep you up-to-date with our campaigns and invite you to take action and get involved. The more supporters we have, the more we can bring about change to improve animals' lives

.

Spread the word - let your family and friends know about the reality of fighting dogs in Britain today.
Write to your MP asking him/her to put pressure on government to ensure more effective enforcement of the law in this area.
Contact the League's Fighting Dogs Crimewatch service if you are aware of any illegal dog fighting activities either by email or telephone on 01483 524 250.
All calls and emails are treated in the strictest confidence.
Make a donation to our campaign.
The League receives no Government or National Lottery funding and relies on the generosity of our supporters. Every pound helps fund our campaigning and investigative work.
Our Fighting Dogs Conference took place in Westminster on Friday 2nd July. It was a fascinating day, with speakers from a wide range of perspectives making interesting contributions. The Conference Chair was the leading criminal barrister, John Cooper QC, in his capacity as chair of the League's Board of Trustees.

The Conference was opened by our Chief Executive, Douglas Batchelor, who set the scene for the day.
Our keynote speaker, Dr Kelly Daley, also delivered the League's Annual Lecture the following day, on her extensive research for the Humane Society of America into urban dogfighting in Chicago. Here is her fascinating speech:
Camila Batmanghelidjh of the inspirational children and young people's charity Kids Company then spoke about the roots of the problem with young men using dogs as weapons and as the subject of their violence.
John Howson, deputy chairman of the Magistrates Association, talked about the way in which the criminal justice system - and in particular the magistracy - has a role to play in prevention.
After lunch, our first speaker was PC Keith Evans of the West Midlands Police Dangerous Dogs Unit.
Nigel Yeo, of the RSPCA, talked about the role of the RSPCA in enforcing the law and preventing cruelty. His perspective was especially interesting as Nigel spent thirty years in the police, and was an Assistant Chief Constable at the time of his move to the RSPCA.
Before joining the League, Rachel Newman worked as a solicitor and spent thirteen years at the RSPCA as Head of Prosecutions. She now heads the League's legal team, and in her speech, talked about terrierwork.
The final speaker at the conference was Vanessa Stead, author of 'The Rescue Dog', and a practising canine behaviourist. Her perspective on the impact that fighting activities have on the dog's individual psychology was fascinating.
It is very clear from the speeches - and the question and answer sessions which followed - that there is a great deal of work to be done in tackling urban and rural dogfighting and terrierwork. The approach needs to be multi-agency to include the criminal justice agencies and the animal welfare sector, and as we plan the future stages of our Fighting Dogs campaign, we will be working with allied organisations to ensure that work in this area gets moving quickly.
Related News
Related Blogs
Related Content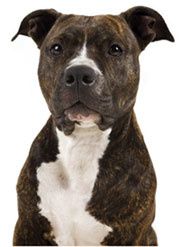 you'll find on this link :
( bottom of the article an important chapter on dogfight also where denounce and what to do.
here :
http://isabella-vegan-page2.over-blog.com/article-ou-reporter-les-actes-de-cruaute-envers-les-animaux-where-to-report-crush-videos-61021964.html
***IMPORTANT IN ITALIA : where to report:
http://www.neteditor.it/content/140133/combattimento-tra-cani-aida-denuncia
Thanks to Loredana