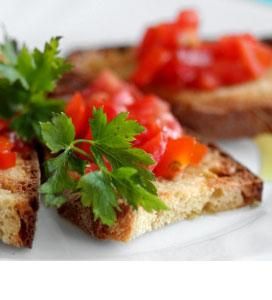 Crostini : recipes
FROM FB :
Crostini, an Italian appetizer, is crusty bread with different delicious toppings:
Top with vegan margarine; fresh, thinly sliced radishes; and a wee bit of salt. Great as a starter before soups.
Top with a diced zucchini, sweet corn and truffle oil salsa. Perfect for a summer cocktail party.
Top with chopped fresh Roma tomatoes, roasted garlic and basil. Serve before an Italian feast.Rub one side of each piece of bread with the cut side of a peeled garlic clove.
Top with a fresh salsa of diced seasonal vegetables held together with light olive oil.
Top with a tapenade of diced portobello mushrooms, black olives and olive oil.
Top with coleslaw and slices of pineapple.
*****
Pesto Crostinis recipe:
http://www.columbusvegan.c
om/2009/10/vegan-mofo-day-
9-pesto-crostinis.html


*****

How to Make Artichoke, Mushroom and Leek Crostini :


http://www.oprah.com/oprah
show/Alicia-Silverstones-A
rtichoke-Mushroom-and-Leek
-Crostini-Video


*****


*****
Vegan "Caprese" Crostini:
http://www.urbanhonking.co
m/hotknives/2008/06/vegan_
caprese_crostini.html

Caprese Bites w/ hearts of palm and tomato confit

(Makes about 30)

1 baguette (day old)
1 1/2 cups olive oil
2 tsp. sea salt
2 cups grape tomatoes
2-3 shallots
1 can hearts of palm
2 sprigs dill
4 sprigs basil
1/2 cup balsamic vinegar
2 cloves garlic, peeled
fresh black pepper to taste

1. Prepare your tomato confit (this can be done as far as one day in advance). Pre-heat your oven to 375 degrees. Wash and dump the grape tomatoes into a deep baking dish or bread pan. Add enough olive oil that the tomatoes are mostly submerged, about one cup. Thinly slice shallots, placing them over the tomatoes with salt and pepper. Roast in oven for roughly 30 minutes or until tomatoes are translucent.

2. Make the crostini: turn down the oven to 300 degrees and slice baguette into thin rounds, just less than 1-inch thick. (Most proper baguettes will yield about 30 slices.) Dab each round quickly with drops of olive oil and sea salt. Then bake on a sheet pan for 15 minutes, or until slightly brown.

3. To cut hearts of palm, go through the can and slice each heart of palm lengthwise so that you have two long semi-circle shaped rods. Then remove and set aside center piece to create a half-pipe. Cut each long half-pipe into two or three squares. This will be the section that gets splayed out on the crostini.

4. Recycle all the hearts of palm remnants into a blender.

5. Strain what you can of the oil from the tomato confit, gently so as not to burst the delicate tomatoes. Add that oil to the blender and pulse until creamy with dill and half the basil. Chiffonade the other half for garnish.

5. In a small saucepan put the balsamic vinegar on high heat and reduce by half. Once reduced, press garlic into pot and remove from heat, letting it cool for about one hour.

6. Construct crostini bites. Lay out crostini bread. Next comes a dollop of herbed hearts of palm puree the size of your ring finger. Follow it with a hearts of palm square. Then place a smaller dollop of puree, the size of your pinky on the square, to act as glue. Finally plop down two of the tomatoes. Finish with a careful drop of balsamic reduction and chiffonaded basil.

*****
Crostini With Sun-Dried Tomatoes
These tasty treats are great to serve at a party
.6 sun-dried tomato halves
2/3 cup chopped roasted red peppers, chopped (approximately 2 peppers)
1 garlic clove, crushed
2 Tbsp. freshly chopped basil or 1 tsp. dried basil
1/8 tsp. black pepper
1 baguette or Italian loaf, cut into 1/4-inch t...hick slices
• Pour boiling water on the tomatoes and let soak for approximately 20 minutes, or until softened.
Drain, then coarsely chop.
• Combine with the roasted red peppers, garlic, basil, and black pepper.
• Preheat the oven to 350°F. Place the bread on a baking sheet and bake for approximately 10 to 15 minutes, or until crisp and lightly browned.
• Top with the roasted red pepper-and-sun-dried tomato mixture before serving.
Makes approximately 20 servings
*****
Chocolate Crostini with Pistachios and Dried Cherries
http://www.oprah.com/food/
Chocolate-Crostini-with-Pi
stachios-and-Dried-Cherrie
s



*****