Bengali-Style Tomato Chutney Recipe♥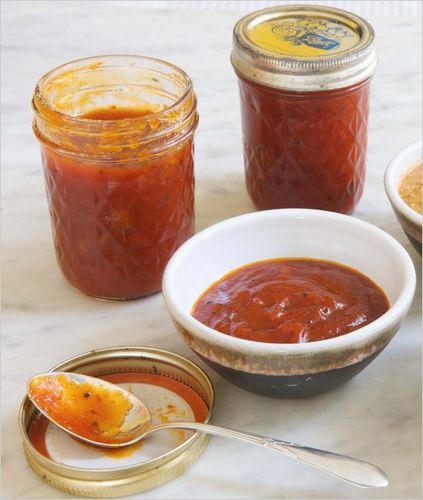 Bengali-Style Tomato Chutney
At Bengali banquets, this chutney, along with deep-fried, puffed white-flour breads (loochis) and pappadoms, is served as the penultimate course, just before the dessert. "Here in the Western world, I tend to serve it with the main meal," says Ms. Jaffrey.
Madhur Jaffrey (from "At Home With Madhur Jaffrey")
Ingredients
2 tablespoons olive, canola, or peanut oil
1/2 teaspoon whole cumin seeds
1/2 teaspoon whole brown or yellow mustard seeds
1/4 teaspoon whole fennel seeds
2 cups tomato puree, canned or homemade
1 1/2 teaspoons very finely grated peeled fresh ginger
3/4 cup apple cider vinegar
1 cup sugar
3/4 teaspoon red pepper flakes
1 1/4 teaspoons salt
2 tablespoons golden raisins (optional)
Preparation
1. Pour the oil into a heavy, medium-size stainless steel pan and set over medium-high heat. When hot, add the cumin and mustard seeds. As soon as the mustard seeds begin to pop, a matter of seconds, add the fennel seeds.
2. A few seconds later, add the tomato puree, ginger, vinegar, sugar, pepper flakes and salt. Stir and bring to a simmer. Once bubbling, turn heat down to low and cook, uncovered, stirring now and then, for about 50 minutes.
3. Add the raisins and cook another 10 minutes. The chutney should be thick and have a glazed appearance. Put the chutney into a jar, allow to cool, and then screw the lid on and refrigerate.
Yield: Makes a generous 1 1/2 cups.
from : http://www.nytimes.com/interactive/2010/11/08/health/20101108_thanksgiving.html?src=me&ref=health#12