Apricot Pickles_do you know that pickles are also a healthy part of your diet?
Apricots contain a carotenoid called beta-cryptoxanthin that appears to be a strong antioxidant. Some experts believe it may help reduce the risk of certain cancers and arthritis.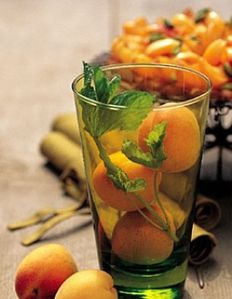 Apricots PIKLES♥

7 lbs apricots(unpeeled, whole)
6 cinnamon sticks
4 lbs. sugar(may be all or part brown sugar)
whole cloves
1 pint vinegar

Wash well apricots and stick 2-3 cloves into each one.
Boil cinnamon sticks and vinegar together.
Put apricots into syrup and boil gently until soft.
Pack into sterilized hot jars with one cinammon stick in each jar- seal at once.
AND NOW.....