All about the Tiger Summit and a petition to sign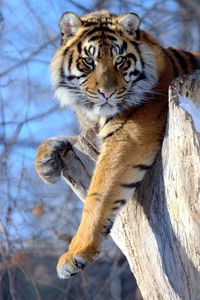 13 Nations Sign Declaration To Save Tigers From Extinction
here :http://www.huffingtonpost.com/2010/11/23/tiger-summit-2010-13-nati_n_787530.html
The number of tigers worldwide has plunged some 95 percent over the past century, to just 3,200 tigers living in the wild. The Global Tiger Recovery Program estimates the 13 nations countries will need about $350 million in outside funding in the first five years of the 12-year plan. The countries – including Russia, whose Far East is home to Siberian tigers, the largest tiger subspecies – have agreed to double the tiger population by 2022, crack down on poaching and illicit trade in tiger pelts and body parts.
Many of them, such as Laos, Bangladesh and Nepal, are impoverished, and saving tigers may depend on sizable donations from the West.
The nations will be seeking donor commitments to help finance conservation measures, the agreement said.
China will decide the species' future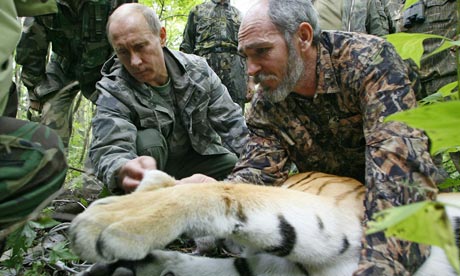 Vladimir Putin fixes a transmitter to a tiger in 2008.
Photograph: Alexey Druzhinin/AFP/Getty Images
Russian president Vladimir Putin has burnished his hard man image at this week's tiger summit in St Petersburg, but in the long run the fate of the endangered cat is more likely to be decided by softly-spoken Chinese premier Wen Jiabao.
The two leaders demonstrated sharply contrasting styles during their meeting in the Konstantinovsky palace that partly reflects their individual backgrounds and their countries' records on conservation.
Change remains possible. Tiger products have been removed from the pharmacopia of traditional medicine ingredients. Chinese officials are also discussing whether to impose a breeding ban on tiger farms as a step towards changing the way they are managed. This – along with the burning of existing stockpiles of carcasses and more undercover investigations by police – would send a clear signal that the tiger market is closed for business in China.
But premier Wen has not made that happen yet. Until he does, the political power of Putin and the conservation money from the World Bank will not just come to nothing. It will be helping to extend the longevity of the tiger traders.
full article here : http://www.guardian.co.uk/environment/blog/2010/nov/23/putin-tiger-china-premier-wen
Inside Burma's illegal trade in tigers

Burma border markets act as deadly trade gateway for tigers, shows a report published by Traffic and WWF. Provincial markets and retail outlets at the Burmese towns of Mong La, near the China border and Tachilek, on the Thai border, were found to play a pivotal role in the distribution of big cat parts including whole skins, bones, paws, penises and teeth.
The products are transported by road and sea into China and Thailand or sold to Chinese nationals who cross the border to gamble and consume exotic wildlife.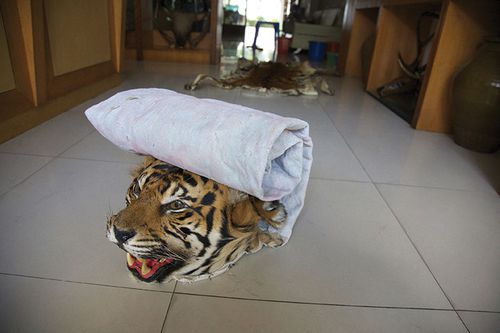 Meanwhile, an International Tiger Forum is being held in St Petersburg to protect the big cats, which have declined a staggering 97% in the wild over a century
and :St Petersburg summit here :
http://www.guardian.co.uk/environment/2010/nov/21/tiger-conservation-russia-world-bank?intcmp=122
full article about the illegal trade here :http://www.guardian.co.uk/environment/gallery/2010/nov/19/burma-illegal-trade-in-tigers#/?picture=368856537&index=1
Leonardo DiCaprio pledges $1m to help save tigers
Titanic star to donate part of his fortune to fund anti-poaching efforts, habitat protection and campaigns to raise awareness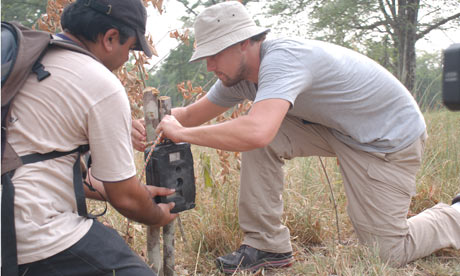 Leonardo DiCaprio, a WWF board member, fixes a camera trap on a recent visit to Nepal. Photograph: Jan Vertefeuille/WWF
The star of Titanic, The Aviator and Blood Diamond announced plans to donate part of his fortune through the environment group WWF to fund anti-poaching efforts, habitat protection and campaigns to raise awareness about the plight of the animal.
"Illegal poaching of tigers for their parts and massive habitat loss due to palm oil, timber and paper production are driving this species to extinction," said DiCaprio. "If we don't take action now, one of the most iconic animals on our planet could be gone in just a few decades."
DiCaprio is in St Petersburg for a tiger summit hosted by Russian president Vladimir Putin. The gathering of heads of state where tigers exist in the wild, including the Chinese premier Wen Jiabao, is the highest-level event ever staged to save a single species. Other donor countries such as Norway are also present although Britain has not sent a representative.
more here :http://www.guardian.co.uk/environment/2010/nov/23/leonardo-dicaprio-save-tigers?intcmp=239
Illegal wildlife trade: World's police 'must learn from environmental groups'
Chief enforcer of global efforts to halt decline in endangered species says tactics and priorities must change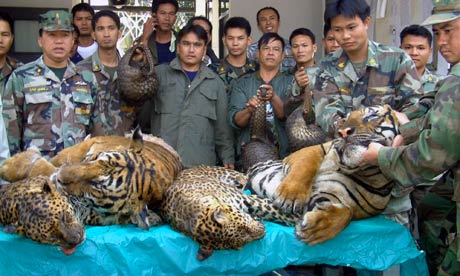 Thai navy officers and forestry officials display dead tigers and leopards seized after a raid on an illegal wildlife trade in northeastern Thailand. Photograph: AP
Police forces across the globe need to learn from environmental NGOs in investigating and exposing poachers and smugglers, according to the chief enforcer of global efforts to halt the illegal wildlife trade.
John Sellar, a former Aberdonian police chief who now works for the


convention on the International Trade in Endangered Species (Cites), said priorities and tactics needed to change if the alarming decline in tigers and other threatened animals was to be reversed.
Speaking before the the launch of a new international consortium to fight wildlife smuggling, he expressed admiration for international NGOs who work undercover to identify individuals and crime organisations that profit from the contraband sales driving much of the kill-off.
Though he did not mention any of the groups by name, Traffic, the Environment Investigation Agency and Global Witness are among the groups that have produced a series of hard-hitting studies in recent years.
"If an NGO had come to me with these kinds of reports while I was a police officer in Scotland, I would have called my staff into the office for a long shouting match and asked why they are doing what we should be doing in terms of policing," said Sellar. "If we brought to bear the investigative skills that we bear on other criminals, we'd be infiltrating these networks and markets and taking action against them."
Cites has joined forces with Interpol, the World Bank, the UN Office on Drugs and Crime and the World Customs Organisation to co-ordinate and promote legal action against smugglers.
The International Consortium on Combating Wildlife Crime will be signed tomorrow at the International Tiger Forum in St Petersburg where delegates have vowed to reverse a dramatic decline that has seen the predators' number fall by 97% in the past century.
"We should agree to eradicate the illegal traffic," said Keshav Varma, director of the Global Tiger Initiative at the World Bank. "This is the cruellest thing. It has to bloody well stop. We have to come down very heavily."
The new group aims to help national police and customs officers to launch undercover investigations, extradite suspects and follow the money trail of profits generated by smuggling.
"There is an opportunity for law-enforcement authorities to make major inroads," said Sellar, who has worked with Cites for 13 years. "In my experience, when dealing with criminals there are only two ways to hurt them, either lock them up or hit them in the pocket."
Currently, he said, the wildlife trade was a source of easy money for organised crime groups because the profits were lucrative and the risk of detection was low. Even if caught, prosecutions were often difficult and penalties minimal.
"Every country could do more," said Sellar. "There is not a single country in the world that has the response to wildlife crime right."
Part of the problem is that police resources are often tied up with other crimes. This was particularly true after the attack on the World Trade Center in 2001, when Sellar said priorities shifted noticeably away from wildlife smuggling and are only now starting to return.
Environment groups said enforcement efforts were just as important close to the ground as at international level. "Without that, all other strategies would fail," said Joseph Walston of the Wildlife Conservation Society, which is pushing for at least $35m per year to strengthen anti-poaching efforts.
artcle here :http://www.guardian.co.uk/environment/2010/nov/22/illegal-wildlife-trade?intcmp=239
Can 2,000 Wild Tigers Find Sanctuary in Thailand Forest?
Anak Pattanavibool, director of the Wildlife Conservation Society's Thailand Program, has been leading the tiger conservation project in the Western Forest Complex. A biologist who studied in three countries, and author of a number of papers and books, he has worked for five years with a Thai government team and WCS tiger scientists to strengthen the protection system in the Western Forest Complex and establish a long-term monitoring system for tiger and prey populations.
His work is funded in part by the National Geographic Society's Conservation Trust.
We are hopeful that this collaboration in the Western Forest Complex between WCS, protected area superintendents and, most importantly, the patrol staff will continue and help create a truly magical place where tigers, elephants and a host of other endangered animals can thrive.
Anak Pattanavibool has received two grants from the National Geographic Society's Conservation Trust, in support of his tiger conservation work in Thailand. Read more about the Conservation Trust.
More About Tigers From Nat Geo News Watch
Rare Tigers Raised in Africa to be "Rewilded" in China
Critically Endangered South China tiger cubs born in captivity in China, but raised in South Africa where they were taught to hunt for their food, are soon to be introduced into a controlled wilderness in their native country.
Can a Thousand Breeding Females Stave Off Tiger Extinction in the Wild?
Wildlife Conservation Society President Steve Sanderson discusses the St. Petersburg tiger summit, the WCS strategy that focuses on 42 source sites for restoring populations of tigers in the wild, and what ordinary people everywhere should be thinking and doing about the conservation of big predators.
Summit to Save Last Wild Tigers Must Do More Than Growl
Tiger range countries meeting in St. Petersburg, Russia, for the International Tiger Conservation Forum hosted by Prime Minister Vladimir Putin, have been urged by conservation activists to "act decisively now or face a future in which the wild tiger is extinct."
A Thousand Tigers Dismembered for Skin-and-bones Trade
Parts of at least 1,069 tigers have been seized in tiger range countries over the past decade, according to an analysis of tiger seizures released today by TRAFFIC, the wildlife trade monitoring network.
America's 5,000 Backyard Tigers a 'Ticking Time Bomb'
With more tigers in captivity in the U.S. than survive in the wild, the United States needs a centralized federal database to monitor the big cats, World Wildlife Fund (WWF) says.
World Tiger Day 2010
Joseph Smith, Tiger Program Director for Panthera, a charity dedicated to restoration and conservation of the world's 36 species of wild cats, answers questions about the challenges facing tigers.
A Last Stand for Tigers?
With the number of wild tigers at an all-time low, a study warns that unless conservation managers redouble funds and efforts to protect tigers in the few places they can still thrive, we may lose the world's largest cat.
China and Russia Declare International Sanctuary for Siberian Tigers
Jilin province of China and neighboring Primorsky province in Russia have agreed to collaborate formally in working towards the first transboundary Amur tiger protected area.
World's Largest Tiger Reserve Designated in Myanmar
A region the size of the U.S. state of Vermont has been earmarked by Myanmar as a sanctuary for the tiger, one of the most endangered animals on the planet. But can the poaching of the big cats and their prey be stopped?
World Bank Invests in Tiger's Future
World Bank Group President Robert Zoellick unveiled Vanishing Icons--a new National Geographic exhibition of photographs of tigers, lions, and other big cats--at the bank's Washington, D.C. headquarters.
Read more about the plight of tigers and other big cats and what concerned people across the world are doing to help them on the National Geographic Big Cats Initiative website.
Join Nat Geo News Watch community
Readers are encouraged to comment on this and other posts--and to share similar stories, photos and links--on the Nat Geo News Watch Facebook page. You must sign up to be a member of Facebook and a fan of the blog page to do this
ARTICLE here :http://blogs.nationalgeographic.com/blogs/news/chiefeditor/2010/11/can-2000-wild-tigers-find-sanc.html
very interesting blog !
xxxxxxxxxxxxxx
How to save the tigers ??
Tigers are threatened across their entire range, from India to the Russian Far East. They face a triple threat: Poachers kill them for their pelts and body parts, hunters kill their prey, and development encroaches on their habitat.
Tiger extinction would be the stuff of great tragedy. But hopes for averting such disaster may emerge from a summit happening this week in St. Petersburg, Russia. Called together by Russian Prime Minister Vladimir Putin, conservationists, donors and leaders of all 13 tiger range states may decide the fate of tigers in the wild.
The Wildlife Conservation Society and its partners in big cat conservation have devised a strategy that offers the summit a practical plan of action to reverse the decline of tigers and put the population on a course for recovery. (This is where the $35 million comes in; more on that in a moment.)
This fall, the Wildlife Conservation Society published a peer-reviewed study identifying 42 "source sites" across the natural range of tigers in Asia, where viable populations of breeding tigers now exist.
full article to read here :
http://us.cnn.com/2010/OPINION/11/23/sanderson.tiger.summit/index.html?hpt=C2
PETITION
Against TIGER TEMPLE/THAILAND
http://www.thepetitionsite.com/1/The-Wildlife-Trade-Tiger-Temple-Behind-the-Cloak-of-Buddha/
ABOUT the Tiger Temple infos here :
http://www.careforthewild.org/news.asp?detail=true&I_ID=598&S_ID=100
Chinese ZOOs:
BEIJING — The Sanxia Wildlife Park in central China has two performances a day starring 10 animals. But it's not dolphins playfully springing into the air at Sea World.
In Sanxia, monkeys ride bicycles and lions are forced to jump through hoops of fire. Elementary schoolchildren gush about how much they love the lion show, in which a trainer beats a lion to make it complete a somersault.
"Many visitors love our animal performances," said Qin Maolin, manager of the park. "The animals are especially busy performing on holidays ... and when they are tired, we let them rest."
The popularity of parks such as Sanxia explains why China may not be banning zoo performances anytime soon, despite recent rules that ban most public displays of cruelty, such as forcing bears to box and elephants to stand on their heads.
"We absolutely applaud improved treatment of animals, but our main concern is whether these new regulations can be effectively enforced," said Jeff He, China communications manager for the International Fund for Animal Welfare, an advocacy group that has tried to end seal hunts in Canada and fox hunting in the United Kingdom.
"China needs a stand-alone, united and integrated legislation to prevent cruelty to all animals."
full article here :
http://www.usatoday.com/news/world/2010-11-22-chinazoo22_ST_N.htm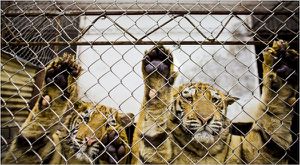 My articles :http://isabella-vegan-page2.over-blog.com/categorie-11467076.html
if you like you can look at the category :TIGER
you will find my 2 petitions ( 1 on changeorg, the other on care2)
and if you are on my friend list on Fb you can see my tiger album about their conditions in Asia
Thank you for your attention and for your support about Tiger conditions.
THANKS TO FENIA♥