Action to take :Gap, Wrangler, Abercrombie ect..AND here the facts :
DHAKA: A fire at a multi-storey garment factory near the Bangladeshi capital, Dhaka, killed and injured many people on Tuesday.
As per latest report 25 people have died and more than 100 injured. Earlier 50 people with serious burn injuries were taken to local hospitals. Some of them were injured in a stampede as several hundred workers tried to escape to safety
more :
Story here : http://www.allvoices.com/contributed-news/7615330-fire-engulfed-garment-factory-in-dhaka-bangladesh
http://en.wikipedia.org/wiki/Dhaka
Petition Source :
http://www.change.org/petitions/view/gap_wrangler_abercrombie_etc_compensate_families_of_workers_burned_alive
For updates on the campaign please 'Like' the Human Rights Facebook and Twitter pages.
They work in almost slave-like conditions making luxury clothes for Americans. They are generally young, poor and female. Last week, more than two dozen of them were burned alive when an easily preventable fire broke out in the unsafe, multi-story sweatshop they were working in.

Who did these Bangladeshi workers die for? Surely a shady company making clothes for the Bangladeshi poor?

Nope. These laborers make clothes for Abercrombie & Fitch, the GAP, Wrangler and Lee jeans, JC Penney, Target, Calvin Klein, Tommy Hilfiger and Osh Kosh B'Gosh.

The tragedy began when a fire broke out on the ninth and 10th floors of the multi-story "That's It Sportswear" clothing factory just north the Bangladeshi capital of Dhaka on December 14. With a number of the exits blocked, 28 workers were killed: most burned to death, some trampled to death, some killed by suffocation and others jumped from the flames to their death. Several dozen more suffered severe burns.
The tragedy is particularly bitter as labor rights activists have long called on US brands to pressure their Asian manufacturers to improve safety conditions at multi-story factories. Indeed this past April groups like the International Labor Rights Forum, the Maquila Solidarity Network and the Clean Cloths Campaign specifically called on major clothing brands to thoroughly review safety standards in multi-story factories.
How many times in one year do workers have to die before GAP, Wrangler, JC Penney, Target, Calvin Klein, Tommy Hilfiger, Abercrombie & Fitch and Osh Kosh B'Gosh begin to take worker safety seriously?

These are principally American companies accountable to American consumers.
It's time to show them that US shoppers will demand a serious, severe response to incidents like this.

Join a large consortium of Bangladeshi and international groups calling on all companies sourcing from the "That's It Sportswear" factory to provide just compensation to the victims and their families and launch thorough, independent, well funded and publicly transparent safety inspections of all multi-story supplier factories in Bangladesh in the supply chain of each brand and retailer.
If you can do more than online action, please also consider delivering a letter of protest to the manager at a local retail store. A sample letter is available here.
For updates on this campaign please 'Like' the Human Rights Facebook and Twitter pages.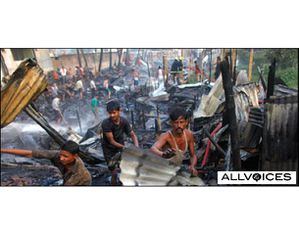 Photo Courtesy @ALLVOICES
article above on the top.
more here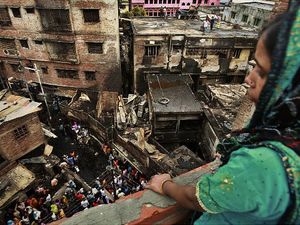 Photo : Therealtimer.com
PETITIONS TO SIGN :
http://www.change.org/petitions/view/gap_wrangler_abercrombie_etc_compensate_families_of_workers
_burned_alive
http://news.change.org/stories/workers-burned-alive-making-luxury-clothes-for-us-brands
http://www.change.org/petitions/clothing-brands-take-responsibility-for-workers-burned-alive#?opt_new=f&opt_fb=t
PLS join our page for HUMAN RIGHTS Petitions here :
http://www.facebook.com/pages/Human-Rights-Petitions/189961434364516
UPDATED:
http://news.change.org/stories/target-responds-to-bangladesh-fires-campaign
http://news.change.org/stories/gap-inc-agrees-to-compensate-families-of-factory-fire-victims
February 1
http://news.change.org/stories/success-all-clothing-brands-associated-with-bangladesh-fires-agree-to-worker-demands