A Compassionate Thanksgiving ♥/Links/Recipes/Events/Petition.
Thanksgiving recipes and a Petition to sign♥

The holiday is an ideal time to celebrate our Vegan recipes♥ and to share it .
Updated november 23˙·٠•●♥ Ƹ̵̡Ӝ̵̨̄Ʒ ♥●•٠·˙ with :
Gentle Thanksgiving is an opportunity each year to encourage friends, family and neighbors to adopt compassionate alternatives to cruel turkey dinners. Caring people across the country will screen videos, distribute information, and, most importantly, host free vegan meals.


The Gentle Thanksgiving menu may include a vegan "turkey", lentil or nut roast, stuffed squash, corn chowder or chestnut soup, candied yams, cranberry sauce, pumpkin or pecan pie, and carrot cake.

Join this opportunity to promote compassionate eating this holiday season!
here the link site : http://www.gentlethanksgiving.org/index.htm
The best thing you can do for turkeys and other farmed animals is to stop eating them and other animal products (meat, eggs, & dairy). Find out more.
Beyond that, you can encourage other people to stop eating animals.
Here are ways you can get active (click on the link for details):
Please visit our Materials page for pointers. Also, be sure to register your activities , even if you are still in the planning stages. By registering your event, you allow us to list you and your city in our Events Directory and to publicize your event to local and national media, as well as other activists.
Recipes here :http://www.gentlethanksgiving.org/guide/recipes.htm
*** International Events list :http://www.gentlethanksgiving.org/events/index.htm
Dealing With Meat-Eating Friends & Family
Sharing vegan food with friends and family is a fun experience, but can sometimes be stressful when mixed with traditional American dinners. It can be difficult for people who are new toplant-based eating to explain their convictions to skeptics, and families may feel pressured when they have to adjust their annual dinner.Additionally, people who eat traditional American food may be defensive about their choices, while vegetarians and vegans may feel alienated. The same can occasionally be true in reverse, when people who eat meat are guests at a meatless holiday dinner.
This does not have to be the case, however. Meals can provide the perfect environment for outreach while being enjoyable and positive experiences for all.
Below on the link are some typical areas of stress and our recommendations:
here : http://www.gentlethanksgiving.org/guide/howtodeal.htm
˜*•. ˜"*°•.˜"*°••°*"˜.•°*"˜ .•*˜
And Great stuff here _courtesy of _:
1__http://www.mnn.com/food/healthy-eating-recipes/stories/vegan-thanksgiving-recipes
Vegan Almond Butternut Squash au Gratin
This wonderful side dish takes about an hour to prepare, including cook time. Make sure you use trans-fat free margarine if you want the healthiest vegan option. The toughest part of the recipe is adding ingredients as you whisk everything together over a medium heat. It might help to have an extra set of hands.
This is a good one, but it's time-consuming — although not as time-consuming as cooking a turkey. Set aside about two hours to make the filling and the pasta. The ravioli can be made ahead of time and kept in Tupperware in the fridge. Read more:
Pumpkin ravioli recipe
Roasted Potato Beet Salad
Here's another one that can take up a lot of time, but it's worth the extra effort. The reason for the lengthy prep time is that you'll be roasting three different vegetables that need to be in the oven for different lengths of time. In the end, you'll have a delicious, colorful salad with potatoes, beets, beans and possibly even radishes. Read more:
Roasted potato beet salad recipe
Garlicky Kale and Roasted Turnips
This link will take you to a page with two recipes for delicious sides. First, garlicky kale is bound to be a hit. And, it's super simple to prepare: just sauté the garlic until it's soft and then toss in the kale. Let it cook for about three minutes while tossing and you should be good to go. For the turnips, slice them and then drizzle them with olive oil, salt and pepper before cooking them for about an hour. Read more:
Garlicky kale and roasted turnips
Roasted Sweet Potatoes with Scallion Butter
Hey, what's Thanksgiving without a heaping portion of starch? Scallion butter can be made up to four days ahead of time. Similarly, the sweet potatoes can be roasted (but not cut) about four hours ahead of time. Read more:
Roasted sweet potatoes with scallion butter
Cauliflower and Mushroom Pot Pie
This one can be used as a main dish. It's got sauce, vegetables, biscuit crust — everything you crave. One caveat: this recipe calls for a Dutch oven. If you don't have one, you can use a large, heavy-bottomed pot to prepare the filling and a large, deep casserole dish to bake the finished potpie. Read more:
Cauliflower and mushroom pot pie
2__New York Times :
*** Chloe Coscarelli shares some great recipes ( as usual) :
A Vegan Chef Dishes Up Thanksgiving –
http://well.blogs.nytimes.com/2010/11/04/a-vegan-chef-dishes-up-thanksgiving/
3__http://www.chefchloe.com/blog/2-blog/41-a-vegan-thanksgiving.html
Pumpkin Bread Pudding
Warm pumpkin bread pudding with a dash of spice and studded with chocolate chips. This rich and creamy dessert is free of dairy and eggs, but will leave everyone feeling indulged.
Ingredients
1 cup coconut milk
1 15-ounce can organic pumpkin
½ cup brown sugar (can use maple syrup)
½ teaspoon salt
1 ½ teaspoon cinnamon
1 ½ teaspoon nutmeg
½ teaspoon ginger
½ teaspoon cloves
10 cups cubed day-old bread of your choice (about 10-12 slices of sandwich bread depending on the thickness of slices)
¾ cup semi-sweet chocolate chips (Guittard and Ghirardelli are both non-dairy)
2 tablespoons brown sugar
powdered sugar for dusting (*optional)
Recipe here :http://www.chefchloe.com/recipes/item/chocolate-pumpkin-bread-pudding.html?category_id=14
4__Carrot, Apple, and Leek Soup
by Colleen Boucher
1 pound carrots (about 6 medium carrots) chopped roughly
1 apple cored and quartered
1 tablespoon olive oil
2 leeks sliced (only the white and light green part)
2 cloves garlic minced
1 cup white wine
6 cups vegetable stock
1 bay leaf
Heat oven to 400º. Place carrots and apple in a baking pan. Cover with 1 cup water, cover with foil and place in the oven. Bake for 30 minutes, or until the carrots and apple are tender.
Meanwhile, heat the olive oil in a large pot. Add the leeks and sauté until just tender, about 5 minutes. Add the garlic and sauté for about 3 minutes. Add 1/2 cup of the white wine and cook until almost completely absorbed. Add the apple, carrots and stock to the pot. Bring to a boil and simmer for 30 minutes. Purée the contents of the pot with an immersion blender (this could also be done in a traditional blender). Add the remaining 1/2 cup of wine. Simmer for 15 minutes, stirring occasionally. Serve immediately!
Clleen is the creator and writer of the blog Dinner Peace ( http://dinnerpeace.blogspot.com ). She is an evolving vegan eater, and recipe creator, health advocate, and wellness specialist. Dinner Peace is a blog for current vegans, vegetarians, and anyone interested in occasionally trying to go meatless, lose weight, or just get healthy.
Article Source: http://EzineArticles.com/?expert=Colleen_Boucher
5__On our Vegan Page♥
http://www.facebook.com/note.php?note_id=184125333385
http://www.facebook.com/photo.php?fbid=10150119439497516&set=a.83815257515.107469.83552172515
on notes you have many recipes also
6__On this blog :
http://isabella-vegan-page2.over-blog.com/article-tempeh-and-wild-mushroom-fricassee-recipe-61043788.html
http://isabella-vegan-page2.over-blog.com/article-bengali-style-tomato-chutney-recipe-60920198.html
http://isabella-vegan-page2.over-blog.com/article-tunisian-2-recipes-winter-squash-salad-winter-squash-with-caramelized-onions-60921771.html
and you can look if you like into "recipes"
7__Adopt a Turkey and a

Petition to sign

:
PLS Ask Mr B. OBAMA to send "Pardoned" TURKEYS to Farm Sanctuary.

You have a petition to sign
here :
http://action.farmsanctuary.org/site/MessageViewer?em_id=18681.0&printer_friendly=1
***Farm Sanctuary runs the very popular Adopt-a-Turkey project each year, but you can also sponsor a turkey at your local sanctuary.
Farm Sanctuary :
8__Compassionate Thanksgiving Recipes on the link here :
http://www.adoptaturkey.org/aat/recipes/
9__*** PETA's Top 10 Reasons Not to Eat Turkeys
Top 10 Reasons Not to Eat Turkeys
These beautiful, inquisitive, intelligent birds endure lives of suffering and painful deaths.
Here are 10 good reasons to carve out a new tradition by flocking to vegetarian entrées, along with some scrumptious holiday cooking tips and recipes.
thankfully, none of them require stuffing food up anyone's behind.
1. They're Begging Your Pardon


Turkeys are "smart animals with personality and character, and keen awareness of their surroundings," Oregon State University poultry scientist Tom Savage says. Turkeys are social, playful birds who enjoy the company of others. They relish having their feathers stroked and like to chirp, cluck, and gobble along to their favorite tunes. Anyone who spends time with them at farm sanctuaries quickly learns that turkeys are as varied in personality as dogs and cats. The president "pardons" a turkey every year—can't you pardon one too? Learn more about turkeys.
2. Get Rid of Your Wattle
Turkey flesh is brimming with fat. Just one homemade patty of ground, cooked turkey meat contains a whopping 244 mg of cholesterol, and half of its calories come from fat.
more here :http://www.peta.org/living/vegetarian-living/Top-10-Reasons-Not-to-Eat-Turkeys.aspx?c=weekly_enews
A Cornucopia of Turkey Alternatives
Give up the giblets and carve out a new tradition this Thanksgiving—Tofurky Roast, a savory soy- and wheat-based roasts with stuffing and gravy or oven-roasted, peppered, hickory-smoked, or cranberry- and stuffing-flavored Tofurky Deli Slices. Give animals and yourself something to be really thankful for this year: Order a free vegetarian starter kit full of tasty recipes and celebrity features today!
More here : http://www.peta.org/living/vegetarian-living/Top-10-Reasons-Not-to-Eat-Turkeys.aspx
http://www.peta.org/features/Thanksgiving-Grace.aspx
https://secure.peta.org/site/Advocacy?cmd=display&page=UserAction&id=2055
http://www.peta.org/issues/animals-used-for-food/hidden-lives-turkeys.aspx
PETA Recipes:
10___Washington Post :
Vegan potluck celebrates a MEAT FREE THANKSGIVING :
http://www.washingtonpost.com/wp-dyn/content/article/2010/11/16/AR2010111603140.html
11__ IDA :Recipes : http://www.idausa.org/campaigns/vegan/recipes.html
While most folks plan the "big thanksgiving dinner" with family and friends, some folks plan Thanksgiving dinner with those less fortunate...
Homeless shelters operate on thanksgiving.
Those folks less fortunate hope for a meal on thanksgiving--same as you and I do.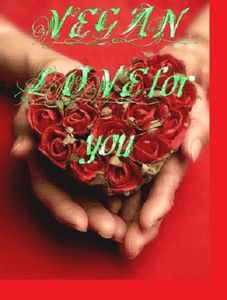 """"""
I ask of you this: talk to your neighbors, talk to your friends.
Help them to understand. Together we can change these trends.

We must speak for the animals who do not have a voice.
We affect their lives when we make our choice.

A plant-based diet is what we should eat.
The flesh-eating lifestyle is now obsolete.

We can make a difference, you and I.
We can reverse these things gone awry.

It may take some effort. It may take some time.
One thing for sure: It's an uphill climb.

Another thing is certain. I will continue to strive…
To make sure this planet does survive.

I hope you will do the same...""""""

Poem© Jeff Rogers 2000
Thanksgiving is a Time for Giving Back♥